First time's a charm: Official SXSW 2014 Showcasing Artist, THE VICTOR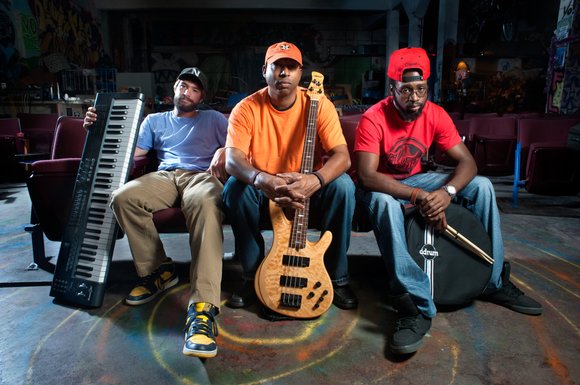 After getting hip to The Victor on last year, I knew that their musical journey was profound. This three-piece combo has created a musical fulfillment that a Mr. Normal can't stop patting his foot to. The Victor released an independent EP entitled, Live at The Compound which debuted on the 2012-2013 top jazz station of the year, Portland's KMHD 89.1. Often related to American jazz pianist & producer, Robert Glasper, The Victor has tapped into a musical time warp of smooth grooves & progressions to a modern dynamic. When it comes to jazz & even hip-hop, Houston is no stranger; this city has a uniquely-rich culture of music.
The Victor breakdown:
Ke'Ke: The Victor has been chosen out of thousands of band entries for SXSW (which is the biggest music festival in the world), how does it feel & how are you preparing for the event?
The Victor: It's indescribable! I mean, you hear the quote of "when preparation meets opportunity it equals success" all the time but belief in words alone sometimes limits your faith. So when we got the nod it was reassuring to know all the work we put in thus far has paid off and that all the people who have supported us collectively and individually and that constantly inspire us can share this moment.
As far as preparation goes we're keeping the same approach we've employed since day one, which is to over prepare, but not to the point where we wear out the groove. Then we go with the flow and have as much fun on the bandstand as possible. It's really a trademark of our performances, we have a lot of fun and we think it's evident.
Ke'Ke: Who are the musicians that have most influenced you?
The Victor: Donny Hathaway, Stevie Wonder, Marvin Gaye, Commissioned & Fred Hammond, Tony Royster Jr., Aaron Spears, Chris Coleman, Chris Dave, Lennie Tristano, Pharoah Sanders and Thelonious Monk...just to name a few.
Ke'Ke: How did you guys meet?
The Victor: We all met two summers ago. It was strange really. I met Jarrell when I stumbled upon an online drummer ad that sounded like something I would have written so I knew I had to call this cat and set up a jam. Oh did we jam! It was like we had been playing together all our lives. From there, Jarrell and I started formulating the kind of band we wanted, and in walks Mr. Farris at a local cafe we were hanging out at on a Sunday night. Clay walks in and shoots us the deuces (peace sign), and say's what's up as he walks past toward the bandstand. He sits in on keys with the band and Jarrell and I both knew instantly that his swing was a little different than most and that he was the one. We hooked up a couple days later to jam and afterwards we all just looked at each other and laughed, I think deep down we knew, and we've been laughing ever since.