New York City next in line to issue ID cards to undocumented residents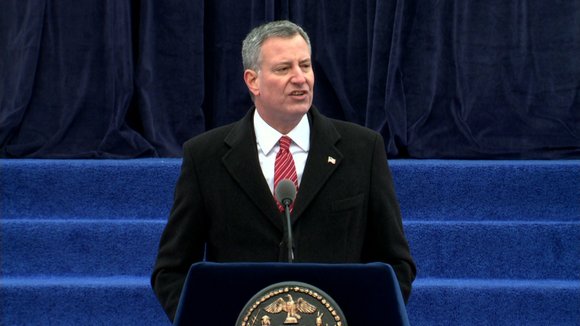 By Cindy Y. Rodriguez
CNN
After living in the city for nearly 25 years, Cesar Vargas says he will finally feel like a true New Yorker.
That is, he will if Mayor Bill de Blasio's proposal to issue municipal identification cards for undocumented residents is approved in the coming weeks.
The ID program would serve a half-million residents, regardless of their immigration status -- making it easier for them to report a crime, lease an apartment, open a bank account and even borrow a library book.
"Even if it's just a temporary solution for undocumented immigrants, it would great to have this," Vargas said, "So if I ever get pulled over by cops again, we would be discussing why I was being pulled over instead of being questioned if my ID was valid or not."
At a time of national debate about the status of millions of undocumented immigrants in the United States, some municipalities have taken steps aimed at improving their lives.
"To all of my fellow New Yorkers who are undocumented, I say: New York City is your home, too, and we will not force any of our residents to live their lives in the shadows," de Blasio said during his first State of the City speech February 10.
The ID cards would serve undocumented immigrants as well as the homeless, low-income elderly people, former prisoners and members of the LGBTQ community who may have difficulty obtaining other government-issued IDs.
Vargas, 30, said even his 70-year-old mother looked forward to getting a library card with her municipal ID, which would "give her some sense of belonging."
Before being eligible for federal deferred action for childhood arrivals (DACA) status, Vargas said, he used his Mexican passport as identification, which caused some awkward encounters.
"I have a driver's license now thanks to DACA, but it says 'Temporary Visitor' in bold and it always confuses people and raises a lot of questions," said Vargas, who is an undocumented immigrant and law school graduate fighting for admission into the New York State Bar.
DACA is a federal program enacted in 2012. It granted some undocumented young people temporary work authorization and a two-year reprieve from deportation.
New York City's ID program would be similar programs in 11 other cities, including San Francisco and Los Angeles; Trenton, New Jersey; Washington; and New Haven, Connecticut.
But opponents of de Blasio's proposal say the measure encourages illegal immigration and could be misused by terrorists.
"One of the reasons the 9/11 terrorists were so successful was because they had access to official identification, but since advocates of illegal immigrants carry a lot of political clout, local government will play up to that," Ira Mehlman, media director of the Federation for American Immigration Reform, told CNN.
The ID program has its limitations: The cards will not be accepted by federal agencies as a form of identification, serve as a driver's license, or be valid to purchase alcohol or tobacco. Applicants would have to appear in person and present other identification, such as a passport, and proof of residency, such a utility bill or lease.