There's A Difference Between Privacy and Secrecy: Don't Make Her Your Secret
Demez White | 2/21/2014, 10:13 a.m.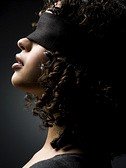 There's A Difference Between Privacy and Secrecy: Don't Make Her Your Secret
Have you ever heard someone say, "I don't want people in my relationship so I don't talk about it?" In the era we live in social media has become such a huge part of our everyday lives. Even people that have never touched a Facebook, Instagram or Twitter account have had their pictures put out there by loved ones, companies, etc. Privacy and secrecy aren't even close and if anyone tries to tell you they are, you need to reevaluate their intentions.
Posting a picture of the woman you love in a dress outside of a restaurant isn't the same as telling the world that you two don't have sex or are thinking about moving in together. Taking a picture while you're on vacation drinking daiquiri's isn't the same as telling all your co-workers that she got home at 2am. Being proud, being in love, being excited about the woman in your life isn't something you can control. You want to tell the world about her, about how amazing she is! What you can control is the personal stuff that all adults deal with. So when people say respect my privacy, I understand that. When people keep the person they're with a secret. I can't understand that?
There's this habit people have of immediately thinking the real world and social media are the same thing. They're not even close, social media is what you or I choose to share with friends or strangers. I know so many people that aren't who they create online and I know people that share way too much. You can keep your man/woman/children off the internet but if you really love them they won't be a secret in the real world. I don't fault couples for keeping their relationship offline but I can promise you their friends and family know of the woman they love. I know women that have never "shared" a picture of their boyfriend or husband but you can see them at restaurants, movies, concerts, company events, church. Keeping someone a secret means eating dinners at home, going out of your way to not be seen with them. Not, not sharing them online.
I love social media, I wouldn't have the readership I have without it but I also understand the value in keeping certain things private. People can be vindictive, jealous, mean spirited. I've seen women post pictures of their husband and women they went to high school with flirt that man just because he's the husband of a woman she doesn't like. I've seen men swear they're in love with a woman they dated a year ago simply because she starts to talk about her new man. I can't fault people for keeping that private but I can promise you they aren't keeping it secret.
You can read more from Demez at www.demezw.com.