Judge Overturns Texas Ban on Gay Marriage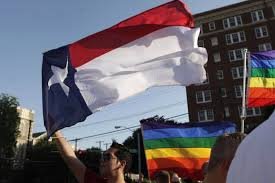 The Texas ban on same-sex marriages demeans the dignity of gay couples for no legitimate reason and is therefore unconstitutional, a federal judge in San Antonio ruled Wednesday.
U.S. Judge Orlando Garcia issued an injunction barring Texas from enforcing a law and constitutional amendment that prohibit same-sex couples from marrying and ban the state from recognizing same-sex marriages that were legally performed in other states.
There will be no rush to the altar in Texas, however. Garcia stayed his ruling, delaying its implementation while Texas officials appeal to the 5th U.S. Circuit Court of Appeals, which oversees courts in Texas, Louisiana and Mississippi.
"Without a rational relation to a legitimate government purpose, state-imposed inequality can find no refuge in our United States Constitution," Garcia, appointed by President Bill Clinton in 1994, said in a 48-page order.
Attorney General Greg Abbott said work on the appeal has begun.
Read more at Statesman.com