The Forces of Nature That Shaped THE WOMAN'S EARTH
Mical Roy | 2/27/2014, 4:57 p.m.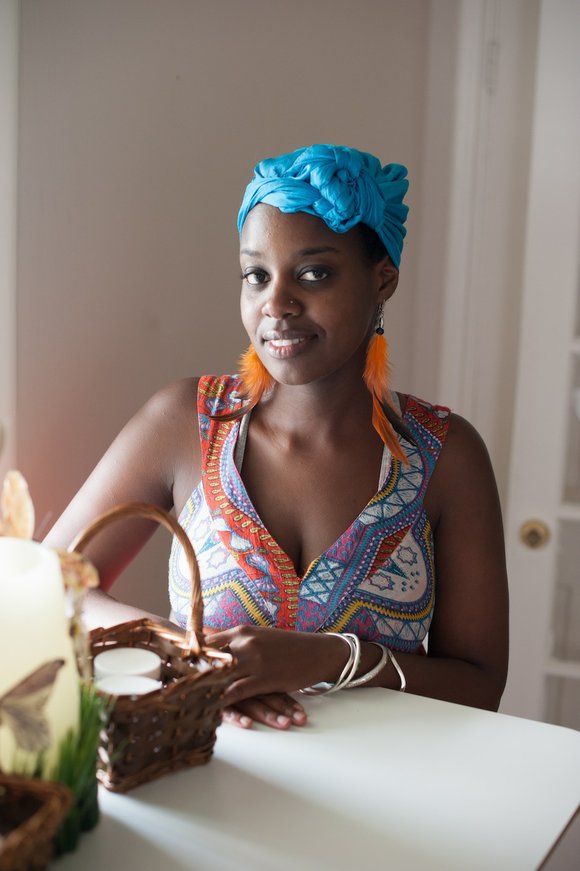 The entrance to this 3rd Ward Confident Cottage is reminiscent of a plantation home; gated with a welcoming bow. It's quiet, though adjacent from Houston's bustling 288. Serenity blankets me, as I pass through the quiet entrance gate, and trot towards the bricked steps, which lead to the door. Before I knocked, I took a minute to fully acknowledge this pure serenity. I heard nothing, but everything had its presence. I drew out of my peace paradox and knocked on the door; without the warning of footsteps drawing nigh, she appeared; the dishwasher, the bricklayer…The Woman's Earth. No really, she's one of those forces to which the title hinted…Ms. Jenee' Pierre, the founder and visionary behind 'The Woman's Earth Nurturing Studio". This all encompassing zen laboratory, positioned peacefully in the midst of the city, has created quite a buzz of its own, serving as a vessel for women to showcase their services, products, literature et al.
Though Ms. Pierre's background is primarily in Human Resources Management, where she climbed the corporate ladder on both U.S. and Canadian territories, her desire has always been to work with women. Reminiscing on a pivotal moment, she flirts with memories of her trip to Nigeria with her spiritual family, and how it was on this trip that things found their clarity. When people and situations started to reveal themselves on her job, she prayed to be stripped of everything she thought she was honoring who she was nonetheless.
Pierre, a noted activist, and a proven groundbreaker was ready to move forward, and more importantly, she was sick and tired of being scared. To that end, she sits in her grandiose, hardwood floor filled nurturing nest, with an uninterrupted smile on her face; it's surreal, and I can tell.

She states boldly that she couldn't have imagined it would've come to what it did. She didn't want a dramatic ending, so knowing that the next day isn't guaranteed, she turned in her resignation to corporate America on March 22, 2013, and contracted work for a week or so; By week two, she'd started writing THE WOMANS EARTH!
When I asked her how she acquired the skills to run this business, she retorted that she's thankful to her career choice, because it prepared her for the business. Being a Virgo, she's passionate, and truly believes that truly comes down to some things being purely innate.
For signature or Specialty Treatments at this Surreal Spa Summit, Jenee' raves about The Nurture Sessions, which she says are TWE's versions of spa parties. There are also mini facials classes, yoga, meditation, woman owned chef services, and more.
If the subject was Interaction with people, Jenee is first in line. She gravitates toward those moments that aren't always planned or set in stone. "It's those spontaneous moments!" she recalls. "Growing up, I hated washing dishes", she says. "Now, after a nurture session, I come downstairs and washing the dishes for me is that moment of momentum, where everything blends easily. Those unplanned moments that happen organically are the moments which make me who I am."