A Gift for Keeps: The 2013 Lexus CT 200h
Jo-Carolyn Goode | 1/2/2014, 4:14 p.m. | Updated on 1/2/2014, 4:14 p.m.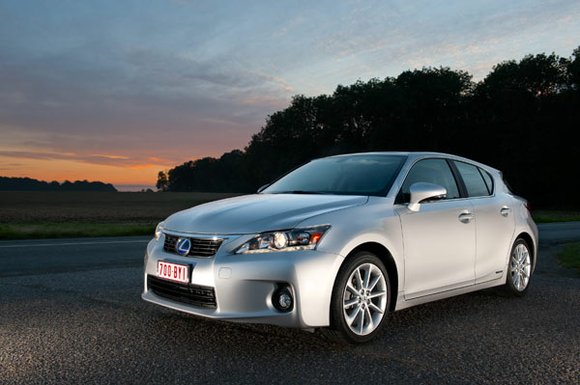 Waking up on Christmas morning looking at a big, bright red bow outside your window would be wonderful. Since it could mean only one thing was waiting for you outside, a brand new, shiny Lexus. Well that was not my reality over the Christmas season, however I still had a December to remember behind the wheel of a Lexus when I test-drove the 2013 Lexus 9900A CT 200h Premium.
When I first saw the Lexus CT 200h I didn't know quite what to expect. The exterior had features that resemble the extreme fun a sports car could bring but also showed off a look of everyday functionality. This blend attracts buyers of every age.
On the interior the technology grabbed my attention right away. Everything was laid out so well for the convenience of the driver. Techies will love the navigation system. The LCD screen is not only retractable but it is also operated by a mouse, giving the user a more laptop-like experience. Using a variety of Lexus signature apps like Enform the driver can plan trips on their home computer and send them to the car. The app also allows the use of Pandora, Open Table, and Yelp apps in the vehicle.
Lexus brand exudes luxury so the consumer gets a lot of bang for the buck. Standard equipment includes 17-inch wheels, heated side mirrors, a sunroof, keyless entry, a 10-way power driver seat, dual-zone climate control, upgraded
upholstery, and the latest in technology and audio capabilities. It was cold in my neck of the woods so I could not utilize the sunroof. Big bummer! My vehicle was at the top of the trim class in the premium model so I also had additional benefits. One that impressed me was the auto-dimming rearview mirror. It is a very helpful and useful feature that also makes driving safer because it added to the quality of my view.
An added package for 2013 was the F-package that gives the Lexus CT 200h a sportier feel with things like a sport-tuned suspension, a larger rear spoiler, a mesh grille, and aluminum sport pedal.
One of the best parts about the Lexus CT 200h was driving it, of course. It was a hybrid so it was great on fuel. Boasting a whopping 43-mpg city and 40-mpg highway, the luxury hybrid sets the standard for those in its class. Some reviewers have complained that the Lexus CT 200h is not a speed racer, but I found it suited my driving needs perfectly. For those who want a little more momentum to their driving, the CT has three driving modes Eco, Normal, and Sport. I found the drive in the CT was very smooth and steering was fluid.
In most of my reviews of vehicles with a hatch, I have found that trunk space is usual less desirable. The Lexus CT 200h put that to shame with over 14 cubic feet of space. Very nice! I so loved that.
The Lexus CT 200h was my precious gift for a week but it could be your gift for keeps for a price of $31,850. Test drive one at your local Lexus dealer or visit www.lexus.com.