Get Covered America's #GotCovered Series: New Jersey Mom Rings In New Year with New Meaning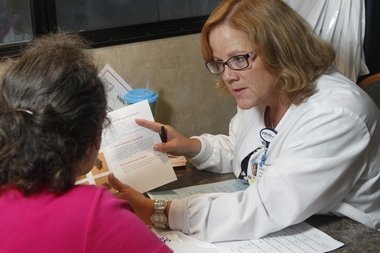 This week's #GotCovered profile highlights one mom's experience finding affordable coverage for the first time in years. For many in the new Health Insurance Marketplace, employer-provided insurance is not an option and trying to shop the individual market before meant denials, administrative red tape, and painful premiums. As The Star-Ledger of New Jersey reported this morning, that was the case for Jean Scully when she lost her employer health insurance in 2002. Thanks to the Affordable Care Act, families can rest assured that tight budgets won't keep them from the coverage they deserve. Our previous #GotCovered stories are available here.
Jean Scully – Morris County, NJ
When the New Year's countdown started, Jean finally breathed relief. "I don't think I anticipated anything more than January 1 besides the birth of my child," she says. That's because Jean was able to enroll in health insurance through the new marketplace established under the Affordable Care Act. She had waited years for that day and it finally arrived last week.
Jean lost her coverage when she lost her job in 2002. Since then she's been self-employed and unable to find affordable insurance for her and her 21-year-old daughter. In 2006, scared by a close friend's heart attack, she bought health insurance that cost over $700 for a monthly premium. While unaffordable for her, the security was reassuring until her insurer denied thousands in claims for what they saw as treatment for a pre-existing condition, her gallstone surgery. She fought tirelessly to get the insurance to approve the claims. After that happened, Jean didn't understand why she was paying sky-high premiums only to fight with her insurer when she needed coverage so she dropped the policy.
Last summer, Jean had another health scare that meant going without insurance was no longer an option. Chest pains brought her to the emergency room with no coverage and the prospect of over $8,000 in bills from testing that was ordered. Without any insurance, Jean declined treatment knowing full well the devastating toll heart disease had taken on her family. Both Jean's parents were lost to heart disease and her high blood pressure was a warning sign.
That's why January 1 meant so much. Jean selected a gold-tier option for her and her daughter at $389 for a monthly premium after the tax credit. While she saw options as low as $170 a month, Jean chose her gold plan because it gave the cheapest out-of-pocket coverage for the tests she knows she will need. She just paid her first invoice and is in the process of finding a doctor to order the tests for her high blood pressure – an issue that's gone untreated for years. Jean and her daughter are now looking forward to a happier and healthier new year.
About Get Covered America and Enroll America
Get Covered America is a national campaign of Enroll America that is focused on educating consumers about the benefits of health coverage and the new health insurance available under the Affordable Care Act. With operations in eleven states (AZ, FL, GA, IL, MI, NC, NJ, OH, PA, TN and TX), our grassroots team is powered by passionate staff and volunteers with one motivating goal: to give Americans the information they need to choose an affordable health insurance plan that's right for them and their families.
Enroll America is the nation's leading health care enrollment coalition, bringing together community and health organizations, businesses and others to inform consumers about the new health coverage options and how to enroll in them. It is an independent, nonpartisan, nonprofit 501c(3) organization.
For more information on Enroll America and its efforts, visit EnrollAmerica.org.
Go to www.GetCoveredAmerica.org to understand how the new health care law will affect you and your family.