Congresswoman Waters Joins with Mary Mary to Encourage Breast Cancer Survivors to Stay Strong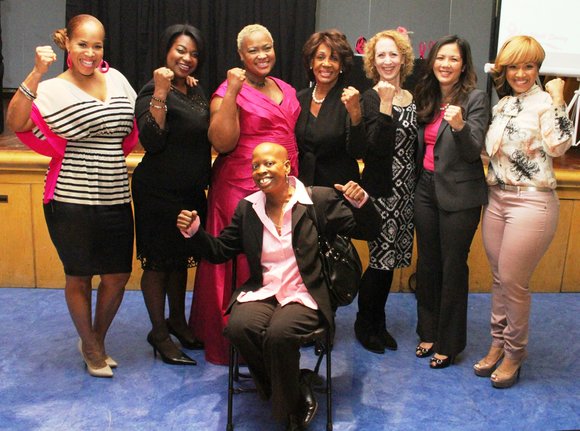 Congresswoman Maxine Waters (CA-43), a longtime advocate of breast cancer awareness, education and research, showed support for urban women and their families struggling with cancer at the inaugural Life Worth Saving Awards & Fundraiser Luncheon this past weekend. The founder of Life Worth Saving, Yvette Pye, is in her third fight against cancer. The organization understands that the effects of life-threatening diseases can potentially become devastating and serves as a vehicle to empower, educate and heal the community. The event was held at the Century Community Charter School in Inglewood, CA. Attendees included gospel duo Mary Mary.
"Yvette is a fighter not just for herself but for other women who also face this horrible disease," said Congresswoman Waters. "I urge all women to make sure you are aware of breast cancer risk factors, doing monthly breast self-exams, and getting regular mammograms to detect breast cancer in its earliest and most treatable stages."
Congresswoman Waters' advocacy on health care issues, and her willingness to challenge the health insurance companies, started nearly four decades ago. In 1978, then a California Assemblywoman – Waters fought insurance companies when she introduced AB 3548, legislation requiring insurance companies to cover reconstructive surgery or prosthetic devices for women who have undergone mastectomies. Waters' legislation passed both chambers of the California Legislature and was signed into law in September of that year. In Congress, she continues to serve as an effective advocate on breast cancer and other women's health issues.
"According to the Centers for Disease Control, breast cancer is the most common cause of cancer and the second most common cause of cancer deaths in American women," said Congresswoman Waters. "By continuing to support organizations like Life Worth Saving, together we can all help do our part in reducing the incidence of breast cancer by speaking with family members, friends, and loved ones about risk factors, education and prevention."