Family wants answers in man's mysterious death in Texas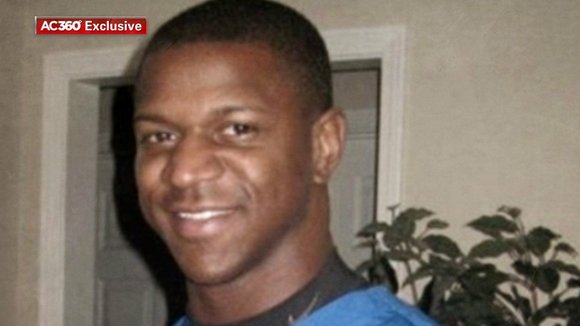 'He was neatly laid'
Walking to the spot, Douglas Wright describes the position in which his son lay: "His head was in this area, and his feet was back here. He was just, if I might say, he was neatly laid. He was neatly laid."
Alfred Wright was wearing only boxer shorts, tennis shoes and a single sock, inside of which was his cell phone, just as the clerk had described. The second sock was under the body. "I was told by the mortician at the autopsy that when they pulled off his left sock, his keys was under his left foot in his shoe," his father says.
"What was weird about his sock," says his father, is that it "was clean, and his sock was pulled up with his phone stuck in it as if he was in a Sunday school class. Neat. His tennis shoes was very clean."
And not just the position of the body seemed strange. "This is the first thing I noticed -- how smooth his forearms and his back was. No scratches at all," his father says. After just one day, he and the other volunteers were caked in mud and their clothing torn from brambles, he says.
Alfred Wright was missing an ear, two front teeth, and his throat appeared to be cut. The medical examiner attributed the trauma to "animal and insect activity." What's more, in an echo of the sheriff's prediction, the coroner's toxicology report described Wright's body as filled with drugs -- cocaine, meth and amphetamines. His death was ruled "accidental" due to a "combined drug intoxication."
HIs family doesn't believe it. Family members say they never saw him do drugs, nor had his personality changed to suggest he was using drugs. They say he was the fun-loving, hardworking father he had always been. They want to know if the drugs entered his body while he was missing.
Suspicious of the investigation, the family hired their own pathologist, who ultimately did a separate autopsy and, contrary to the medical examiner, found what appears to be "severe trauma to the neck and head."
A month after Wright's body was found, Maddox handed the investigation over to the Texas Rangers. They have called the death "questionable" and say the autopsy is just one part of an active investigation. The week CNN was in Sabine County, the Texas Rangers announced they had called in the FBI to assist.
CNN's Ross Levitt contributed to this report