Inaugural Visual and Performing Arts Festival Announced for Houston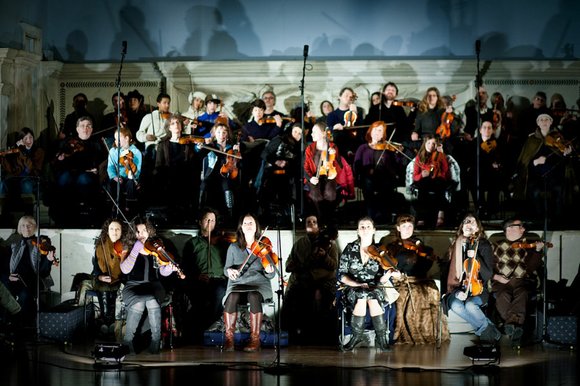 The University of Houston's Cynthia Woods Mitchell Center for the Arts announces CounterCurrent, a city-wide arts festival scheduled April 9 through April 13, 2014. This bold new interdisciplinary initiative features local, national and international artists. The festival will be comprised of 12 cutting-edge contemporary and collaborative performances, installations and experiences that will occur at various venues throughout Houston including galleries, outdoor sites and non-traditional spaces. Festival passes will be offered free of charge to the public.
This inaugural collaborative multi-arts festival encompasses works that blend theatre, dance, music, visual arts, film and literature. "It is our goal to offer Houston a cutting-edge festival – one that truly puts Houston on the international map," said Karen Farber, Executive Director of the Cynthia Woods Mitchell Center for the Arts, which produces the festival. "By programming stimulating visionary and thought-provoking works by artists from all over the world, we expect to generate unprecedented excitement about contemporary performance in Houston, and engage the university community in the experience"
Highlights among the lineup of cutting-edge and collaborative performances, installations and experiences include:
• Jonah Bokaer ECLIPSE. Bokaer, an accomplished New York choreographer and exquisite modern dancer, partners with Anthony McCall, the British-born avant-garde artist specializing in cinema/projected film, to create a dance/installation that appears as a square of pure light and movement, with an audio-visual time score. ECLIPSE was made possible by the New England Foundation for the Arts' National Dance Project, with lead funding from the Doris Duke Charitable Foundation and The Andrew W. Mellon Foundation, with additional support form the National Endowment for the Arts.
• Byron Au Yong, Piano Concerto Houston. Commissioned by the Mitchell Center, this installation draws together a diverse group of 11 local pianists, Seattle-based composer Au Yong and visual artist collaborator, Susie Lee, will create a virtual piano ensemble to be viewed in an exhibition space.
• Lagartijas Tiradas al Sol, El Rumor. Presented in collaboration with MECA, this Mexico City-based theatre company has concocted a bold documentary play that reignites the political history of their ancestors. The play incorporates witness accounts, archive film and scale models.
"This festival is all about collaboration and will transform Houston into a hotbed of creative activity. It is my hope to create a groundbreaking event in the same genre of the first-class arts festivals around the world, from Europe to Mexico City, New York to Portland." said Farber. "CounterCurrent is about amplifying Houston's communities, cityscapes, industries, and institutions through works developed outside and within Houston's borders." Festival themes include language experimentation, transit and transportation, and the collisions between natural and unnatural environments. CounterCurrent will foreground Houston's many communities by offering Spanish speaking works, as well as projects by Chinese-American artists, Latino artists, and practitioners from many backgrounds and perspectives. Fresh new works by University of Houston faculty and students will also be included in the festival, and late night events will be programmed to celebrate the festival's incredible offerings.

FREE passes for CounterCurrent, and a complete schedule of events will be available in late winter/early spring. www.countercurrentfestival.org.