Suga Babes Making a Difference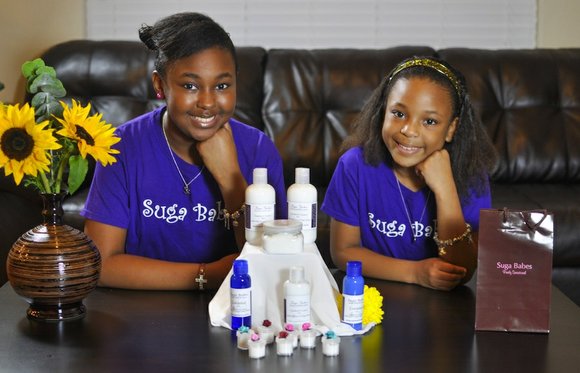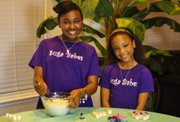 "It is important to inspire our children and nurture their dreams. As guardians we need to support them."- Jacquie Parish
In April 2012, 12-year-old Layla and 7-year-old Mya presented their mother Jacquie Parish with an idea that would change their life. For years the mini entrepreneurs were fascinated by bath and body scrubs and fragrances and would always dabble in their mother's products, but the girls wanted to expand their interest and create a business all their own. With the hope of inspiring other little girls to chase their dreams no matter what the age, Suga Babes was created in May 2012. It became Jacquie's mission to instill business and customer service skills in her daughters as well as the responsibity to give back.
The girls created their first signature scent "Juicy Lemon" accompanied by a body mist using an organic, vegan base and essential oils. Slowly more products were created such as body scrubs and lotions. In no time, the girls had seventeen various products and fragrances in their repotoire.
The initial clients of Suga Babes were friends and family. With their popular mobile spa parties, which Jacquie describes as "a not-so-basic party for young girls," their client base grew. During their spa parties, Suga Babes provides an in-home spa for their little clients that includes manis, pedis, and facials. Cheese and cracker plates, appetizers, "Suga-tinis", and age-appropriate magazine are also provided for a true spa-like experience. The parties became so popular the moms got jealous and so began Gigglez and Girlfriends, a grown up version of the mobile spa parties.
Jacquie, Layla, and Mya pride themselves on giving back to the community and in December 2013 they partnered with Spaulding for Children. The girls coordinated spa parties for foster children, which included nail painting. During their most recent spa party, Suga Babes brought tote bags with goodies and Jacqui gave an inspirational message to the young girls about following their dreams. In addition, they also donated Suga Babes gift bags to silent auctions for various charities.
Jacquie has been the foundation behind Suga Babes. Despite being a single mother, she has funded all things related to her and her daughters' business. "It is important to inspire our children and nurture their dreams. As guardians we need to support them," said Jacquie. This January Jacquie became a full-time Suga Babe.
Goals for 2014 include more marketing campaigns and promotion for Gigglez and Girlfriends. Memorial Herman, Fountain of Praise, and The Red Door are just a few places that make Suga Babes available to the public, but Jacquie is hoping to expand into retail stores this year.
The threesome plan to develop their own bi-monthly show on YouTube called "Sweet Talk" that will focus on young entrepreneurs like Layla and Mya. The first airing is scheduled for February 3rd.