93.7 The Beat Champions Locals & Change At Brunch Mixer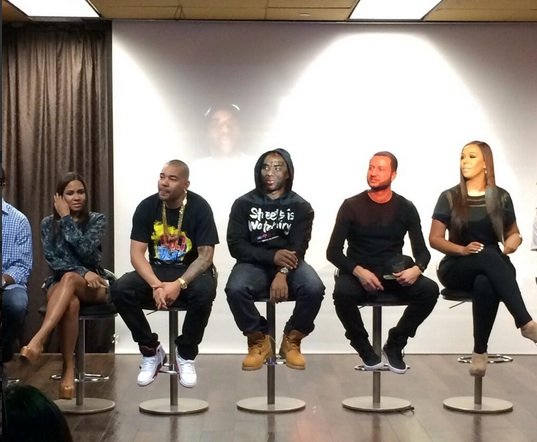 With a platform and elaborate stage set up, KQBT 93.7 The Beat made a formal introduction of their on-air talent as well as Power 105.1's The Breakfast Club in front of gathered media, local personalities and more early Thursday morning.
"[The Beat] is our 50th urban station," said Doc Wynter, Vice President of Urban Marketing at Clear Channel said. "To see such fast growth is amazing."
Wynter also explained how Trae Tha Truth, the Houston rapper exiled from competing station 97.9 The Box five years ago first came to be played on Clear Channel airwaves. "I didn't know of him at first, but I knew T.I. and T.I. passed me the record and it's a great track."
Joining Wynter were Clear Channel Houston's General Manager Eddie Martiny as well as The Beat's new on-air talent in Rudy Rush, UB Rodriguez, Chris Michaels & Devi Dev. During a spirited Q&A session, the Breakfast Club expressed their love for the city of Houston and pledged their continued support to the city and its artists.
"We'll still be located in New York," Angela Yee of The Breakfast Club told the audience. "But we'll be coming to Houston often."
When questions regarding local artists getting played on 93.7 arose, Wynter & DJ Envy of The Breakfast Club stated rather bluntly that the locals would get a chance. "If it's hot, we'll play it," Envy said.
Wynter added, "We're already playing Bun [B], we're already playing Trae [Tha Truth]. And you don't have to pay us to play your music!"
Earlier in the morning, the trio which includes Yee, Envy & Charlamange Tha God christened the new 93.7 The Beat studios by inviting guests such as Bun B, Kirko Bangz and Rap-A-Lot founder J. Prince on air.
The reception inside the Clear Channel offices once the seven on-air personalities graced the stage was vociferous as many including one of the city's foremost torchbearers in Wicked Cricket expressed their satisfaction that a change had arrived in the city.
"We were waiting on y'all," he said to thunderous applause. "The even platform was necessary. It's like Rome needed to be toppled."