Got $2Million+? You Could Be the New Owner of Queen Latifah's New Jersey Home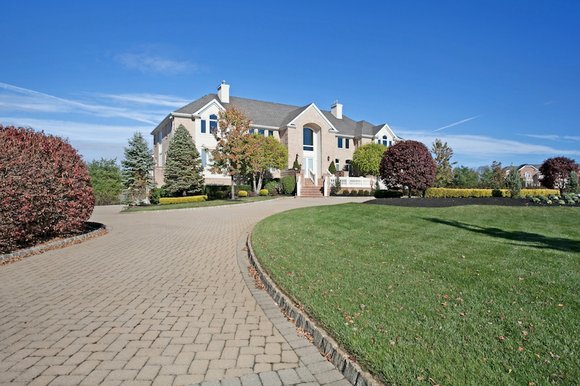 Along with the excitement and fame that comes from making it to the top, Latifah has had her share of tragedy. Her brother was killed on a motorcycle she had just given him and she still wears the key to that motorcycle around her neck. Another violent tragedy occurred when the car in which she was riding was hijacked and her boyfriend was shot and killed. Surrounded by hard work and life's battle scars from past events, Latifah remains grounded and continues to succeed at new adventures.
Queen Latifah has lived in her Colts Neck, New Jersey home for the last twelve years, but with the time it takes to produce her talk show, decided that a move to the West Coast would make more sense. She has recently placed her 7,000 square foot, nine-acre New Jersey estate on the market. The six bedroom, eight bathroom mansion is impeccably maintained with pristine landscaped grounds, a five-car garage and heated Olympic-sized swimming pool. The interior has huge spaces for entertaining, is open and filled with light, has an exercise room, a game room, and four fireplaces.
Queen Latifah has put her nine-acre New Jersey estate on the market and is asking $2.4 million.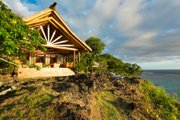 South Pacific Island Retreat Auction!
On first sight, there is no doubt that this Fiji home is a South Pacific paradise. Easy to imagine that some well-known island-loving celebrities will be kicking themselves that they didn't wait around for this one. Specifics who come to mind are Oprah with her Maui farm where she grows organic vegetables, Larry Ellison who just bought most of Lanai just because he could, and Richard Branson who has been happily living on Necker Island in the British Virgin Islands with his family for years. Mel Gibson owns his own island in Fiji, the 5,400 acre Mago Island, but might want to trade for this fabulous retreat. Since it's going up for grabs at a no reserve auction, maybe one of them will want to add it to their collection.
Wakaya is a privately owned island in Fiji's Lomaiviti Archipelago. Only five miles long and one and a half miles wide, it was purchased by Canadian gold mining entrepreneur, David Gilmour, in 1973. He proceeded to establish an exclusive resort, the Wakaya Club, along with roads, a freshwater reservoir, an airstrip, a marina, jetty, village, church, gym and school for the resort's employees and guests.
Named Lawedua, this is one of only five homes on the island and is perched 150 feet above a private beach. The location of the estate offers dramatic views of the Koro Sea and cliffs of tropical vegetation. If it looks familiar, it has appeared on the cover of "Architectural Digest" and has been host to celebrity guests such as Bill Gates, Michelle Pfeiffer, Jim Carey, and Celine Dion. The Lawedua enclave consists of two residences and two guest bures, each with two bedrooms. Architectural details are Balinese pole-style construction of structural bamboo with soaring ceilings and living areas separated into pavilions, or bures in Fijian.