The African American Library at the Gregory School: A Treasured Jewel of Houston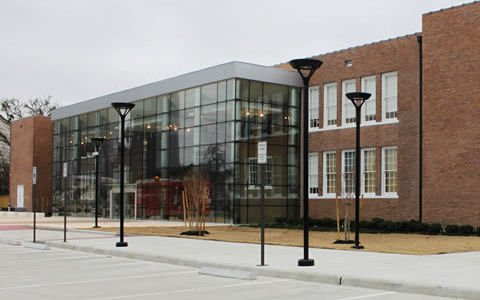 By Bell and thegregoryschool.org
The Edgar M. Gregory School is more vital to Houston than most know. It is not only the first public school for African Americans in Houston but it is also home to Houston's first library for African Americans, a first of its kind. Located in Historic Freedman's Town, this library serves as a resource and repository to preserve, promote and celebrate the rich history and culture of African Americans in Houston, the surrounding regions, and the African Diaspora.
"People will leave the Gregory School having increased knowledge, deeper understanding, and a whetted appetite…" – Dr. Rhea Lawson, Director, Houston Public Library
The library opened its doors November 14, 2009 becoming the newest of three special collections operated by the Houston Public Library. What can you find at The African American Library? The library provides a plethora of incomparable collections of aged books, archival materials, periodicals, historical recordings, exhibits, artifacts, oral histories, innovative programs, and much more. The historical building is to serve as a repository for the general public, researchers, and historians.
The African American Library at the Gregory School, one of the few African American Libraries in the nation, is located at 1300 Victor Street, 77019. One of their permanent exhibits is the Freedmen's Town, Fourth Ward; which chronicles a crucial period in Houston African American History. This period of time follows a community that was established following emancipation, which is how it became known as "Freedmen's Town, Fourth Ward". This exhibit also incorporates a number of stories proving the power of a people's commitment to one another via building and sustaining family, communities of worship, and social organization.

Some of the library's featured exhibits are a restored classroom from 1926. Equipped with modern technology, visitors can sit in the classroom to watch a film about the history of the school. One of the most interesting exhibits is that dedicated to the African Americans who helped to build Houston. See exhibits on Emmett Scott, who started Houston's first African American newspaper; Matthew W. Plummer, member of the first graduating class at Texas Southern University; and Judson Robinson, first African America on Houston City Council since Reconstruction and many more. There are historical displays on Houston's first African American Baptist Church, Antioch Missionary Baptist Church and Houston's first cosmetology school, Franklin Beauty School.
The two-story, 20,000-square-foot former elementary school named after Edgar M. Gregory, a Union officer and Assistant Commissioner of the Freedmen's Bureau for the Texas area, has been vacant since 1980 and is located in Freedman's Town Historical District, in Houston's Fourth Ward. This area is considered to be the city's oldest established African-American community.
Becoming part of Houston Independent School District, the Gregory School became the first public education institution for African-American children. The State Historical Commission designated the Gregory School building as a State Archaeological Landmark. This designation is the highest historical landmark classification that can be placed on any building.
There is an old saying that goes "you can't know where you are going, unless you know where you have been"; this is applicable to ALL Americans since the history in the library chronicles African American experiences in the United States. Since we are on the cusp of Black History Month, it is imperative that if you haven't visited this Historical Library, you schedule a trip soon!

Every Houstonian, no matter your race, needs to take a trip to this Houston's jewel. The library is opened Monday thru Thursday from 10am-6pm and on Saturday from 10am-5pm. Admission to the library is free of charge.
See more by Bell at http://www.totallyrandie.com/