Rodman in rehab: I'm not an ambassador to North Korea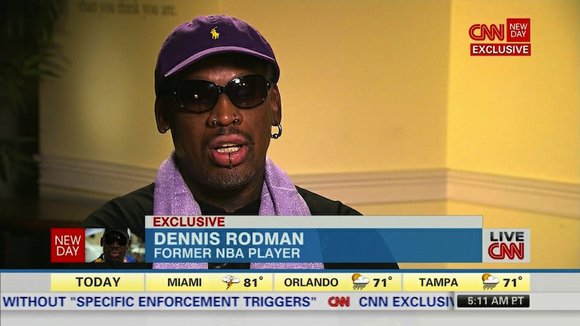 By Mariano Castillo and Steve Almasy
CNN
Dennis Rodman says he's not a diplomat, just a former NBA star fighting addiction and trying to be a better father.
But that hasn't kept him from becoming embroiled, even if unintentionally, in U.S.-North Korea relations.
His apparent chumminess with North Korea's leader has been controversial, as have previous proclamations that Kim Jong Un is a "nice guy."
Rodman said he simply does not know enough about the allegations of abuse and authoritarianism that Kim is reviled for.
"I keep telling people, I'm not there to be an ambassador to try to figure out why (is Kim) doing all these things? That's not my job," Rodman told CNN's Chris Cuomo on "New Day" Friday.
It was his first interview since entering an alcohol rehabilitation facility two weeks ago.
The former basketball player is probably the American with the most access to the North Korean leader, and many have been critical that he has not lobbied for the release of American prisoner Kenneth Bae from a labor camp.
"I'm not an ambassador, and I tried to strive and tell people, just because I know the marshal (Kim), that doesn't mean I know the marshal like that," he said.
Rodman says he didn't mean to insinuate during an earlier interview this month that he knew why Bae, a Korean-American, was being held in North Korea.
"To this day I still don't know what he did," Rodman said, even offering to take Bae's place if he could.
"I feel for (Bae's family). I feel for them deeply. ... I would do anything literally. This is Dennis Rodman talking. If they (North Korea) said, 'We'll take Dennis Rodman and we'll let Kenenth Bae go,' I'll say, 'You know what? I'll do that. ... Take me.'"
'I drink... because I'm bored'
The North Korea topic was important, but Friday's interview was as much about Rodman's personal struggles with addiction.
"I've always been a party animal," Rodman said.
But he said this is a great time for him to reflect publicly and put himself at peace with a "lot of stuff that has been going on" over the past 18 months.
"I think for me, the reason I drink is because I'm bored," he said.
"Am I an alcoholic? Absolutely," Rodman said.
Asked whether he was drunk during his first interview with Cuomo when Rodman was in North Korea earlier this month, the former NBA star said he drank with his teammates beforehand, but declined to say whether he was drunk.
"It wasn't about me being in the right mind," he said.
This month, the colorful basketball Hall of Famer, who won five NBA titles with the Detroit Pistons and Chicago Bulls, organized a team of former professional basketball stars to go to North Korea for a game that was played on Kim's birthday.
The players were criticized for traveling to the secretive state, a nation accused of human rights abuses. North Korea also has pursued a nuclear program, despite warnings from the United States and other Western powers.