Rodman in rehab: I'm not an ambassador to North Korea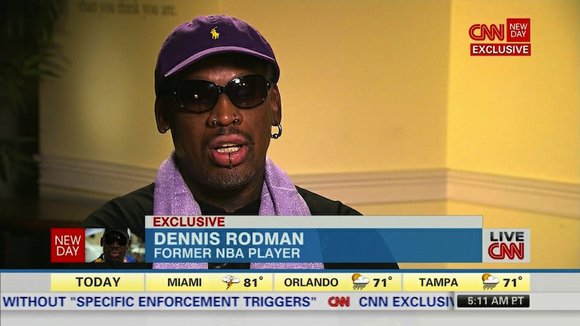 Rodman said his actions in North Korea do not make him a bad person.
"I'm not a traitor," Rodman said. "My whole goal is to make people happy."
During the live interview, the former professional basketball player extended an invitation to take Cuomo to North Korea to meet its leader, and decide for himself what kind of person Kim is.
Fellow player Charles Smith defended the visit as a mission of basketball diplomacy, where sportsmen would share cultural ideas with each other.
While there -- in what was his fourth trip to North Korea -- Rodman spoke to Cuomo in an at-times heated interview. The sunglasses-wearing Rodman began yelling at the CNN anchor as he defended the team's visit.
"You know, you've got 10 guys here, 10 guys here, that have left their families, they've left their damn families, to help this country in a sports venture. That's 10 guys, all these guys here, do anyone understand that?"
"We do," responded Cuomo. "And we appreciate that and we wish them well with cultural exchange."
"No, no, no, no," Rodman continued. "I don't give a rat's ass what the hell you think. I'm saying to you, look at these guys here, look at them ... they dared to do one thing, they came here."
And Rodman also implied that Bae, held prisoner for 15 months by the regime, was guilty of a crime, but he did not specify what offense.
"Do you understand what he did in this country?" Rodman asked Cuomo, who tried to interject. "No, no, no, you tell me, you tell me. Why is he held captive here in this country, why?"
"I would love to speak on this," Rodman said, before abruptly switching topic to talk about how his fellow basketball players had left their families behind to come to North Korea for the exhibition game.
Bae, of Lynwood, Washington, was arrested in November 2012 in Rason, along North Korea's northeastern coast. The devout Christian and father of three operated a China-based company specializing in tours of North Korea, according to his family and freekennow.com, a website that friends set up to promote his release.
Rodman later apologized for his remarks about Bae. And his longtime agent, Darren Prince, said his client had fallen victim to stress and drinking.
"He is embarrassed, saddened and remorseful for the anger and hurt his words have caused," Prince said in announcing that Rodman was in rehab.