Desert deaths mystery: Five questions about the McStay case
Willie Grace | 7/1/2014, 2:04 p.m. | Updated on 7/1/2014, 2:04 p.m.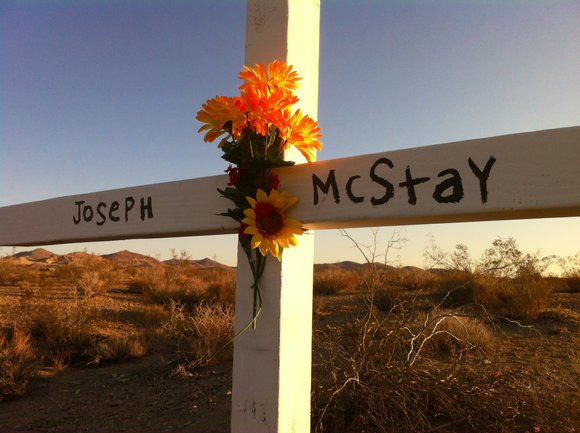 It's been more than four years since the McStay family went missing, and nearly eight months have passed since their remains were found in the Mojave Desert.
Who would want to kill Joseph; his wife, Summer; and their two young kids, Gianni, 4, and Joseph Jr., 3? How did their bodies end up in two shallow graves some 100 miles north of their home?
Investigators still have not named any suspects or persons of interest, but those involved aren't giving up.
A new detective recently joined the investigation, bringing new energy and new ideas to the table.
As the investigation continues, here are five questions that could provide clues about the case:
Who used Joseph McStay's phone shortly after he disappeared?
On February 4, 2010, Chase Merritt received a phone call from Joseph McStay. It was 8:28 p.m.
Chase, Joseph's close friend, picked up the phone, looked at it, and set it back down.
"I had a bunch of other things I was doing, and I was just tired," he told CNN.
Joseph ran a custom water feature business, and he often bought custom indoor waterfalls from Chase. The two talked frequently. Chase had already talked to Joseph multiple times that day, and they had also met in person for a couple of hours.
"I had no idea that something like this was going to happen," said Chase.
Was that just a regular call from his friend, or could it have been a call for help?
"There are hundreds of scenarios. I have gone over all of them in my head," he added. "Of course I regret not picking up the phone."
Who used Summer McStay's credit card the day she disappeared?
According to phone records, Summer McStay made a call from her home phone at 2:11 p.m. February 4 regarding purchasing herbal medicine. Financial records show her credit card was used 25 minutes later at a store in Vista, California, about 20 minutes from her home.
It's not clear whether Summer was the one who made that purchase.
"That is certainly a piece of evidence that we would review if there's any video or any documentation to support who was at that store and used that credit card," said John McMahon, sheriff of San Bernardino County.
"Every piece of evidence in this case is critical," he said.
Did Joseph McStay's business have anything to do with his families' disappearance?
In the months before his disappearance, business at Joseph's company was good.
So good, in fact, that Joseph was working on a deal that could have been worth $9 million, his father, Patrick McStay, said.
By summer of 2011, Dan Kavanaugh, who worked for Joseph managing his company's website, had sold the business to an outside company. Patrick was enraged.
"He owned nothing of --- any part of, any share of, anything," he said.
Dan, however, said he and Joseph split everything 50-50.
"We shared ownership from the beginning of starting the company," he said.