Americans fall in love with 'football,' national team during World Cup
Willie Grace | 7/2/2014, 11:46 a.m. | Updated on 7/2/2014, 11:46 a.m.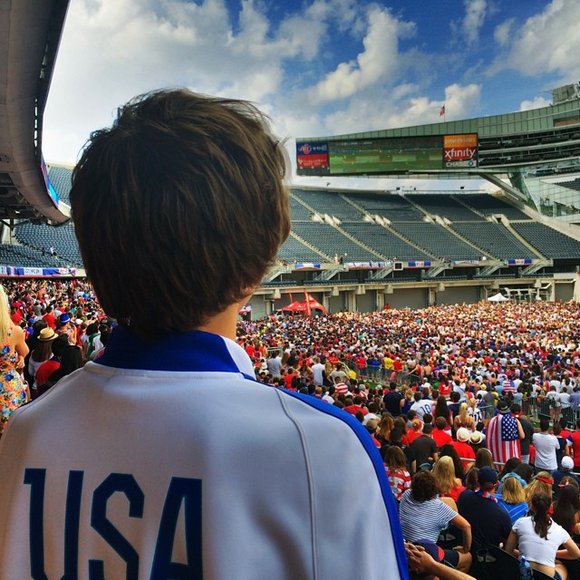 They watched by the tens, if not hundreds of thousands. In cozy sports bars and cavernous sports stadiums. In living rooms and in public spaces. In front of computer screens and in front of big screens in downtown plazas.
To echo the national team's mantra: They believed the Americans could win.
Their team did not, however, exiting the World Cup in the knockout round after losing 2-1 to Belgium.
But if anything can salve the wound of the U.S. team's elimination in the World Cup, it's how many in the country opened their eyes to soccer, as if for the first time.
"Our heroic display makes young Michael Jordans choose soccer over bball in High School now!" tweeted Terrence Boyd, a late cut from the U.S. National Team. "@ussoccer will be a real force."
Time will tell if more American athletes turn to soccer -- or football as it's known most everywhere else in the world -- over basketball, football or baseball thanks to the 2014 team.
Still, over the past few weeks, there's no denying that the Americans' performance has galvanized and, quite likely, created legions of fans.
While ratings weren't immediately available for Tuesday's match with Belgium, the Americans' first-round match against Ghana set a viewership record for ESPN's coverage of World Cup matches. Their game last week versus Germany was the network's second-highest rated World Cup match.
It's not just that people watched, it's how they watched. Social media buzzed every game, with people seemingly living and dying by every goal-scoring chance and save by stalwart U.S. goalkeeper Tim Howard. And then there were the thousands who ventured down to Brazil in their red, white and blue -- in their clothing as well as their faces -- to cheer on their team.
The U.S. players repeatedly said they had noticed the groundswell of support, both in Brazil and back in the United States. It helped propel the team -- and, they hoped, will help contribute to their sport's growing popularity stateside.
"Watching some of the scenes back home has been incredible," said Howard, who was named "man of the match" after his tremendous, although losing, performance. "It fills us with pride and inspired us to push forward and feel like we could actually could do something, special because the feeling, the passion back home, was second to none."
The growth of soccer in the U.S.
On the world stage -- in economics, politics or whatever else -- Americans are rarely underdogs.
Yet that was the case in the world's biggest sporting event, especially after the team was put in what many called "the group of death."
The United States was one of two teams to advance from that group, leading up to its game with Belgium. The Red Devils prevailed thanks to two goals in extra time -- after 90 minutes of scoreless regulation -- in what U.S. head coach Jurgen Klinsmann described as both "a thriller" and "a bummer."