SuperLady LIVE MOVEMENT Gives Women Their Time to Shine
Dawn Paul | 7/2/2014, 3:52 p.m.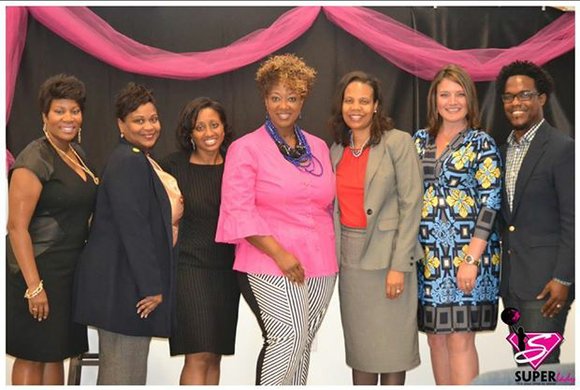 You know Loretta Williams Gurnell as that fiery ball of energy with the golden voice behind the "SuperLady" song, but this year she's launched an amazing initiative of empowerment that has brought the words of her ballad to life and is inspiring women and others to SHINE. She doesn't see herself as just the founder of the SuperLady LIVE MOVEMENT, but a visionary along with her husband, encouraging all women to celebrate each other and embrace the SuperLady lifestyle that's in each and every one of us.

Just 9 months after starting the SuperLady LIVE MOVEMENT, it has been thriving and exceeding expectations. After only a short time, this organization has formed lasting partnerships, holding SuperLady LIVE TALK conference calls and extending its message of empowerment to young ladies with SuperGirl EXPERIENCE. The SuperLady LIVE MOVEMENT is more than just empowering women. Gurnell sees this initiative going above and beyond that. One of her goals is that women take this movement to their families, which will create a ripple effect of positivity through the community.

Where some conferences make you feel good for a moment, SuperLady LIVE MOVEMENT differs in that it is an EXPERIENCE! Gurnell says, "Attendees are provided an unforgettable experience that allows them to be engaged in a thought, idea or concept that they can easily take home and apply to their everyday lives." Because this event is an experience as opposed to just a conference, attendees will live out their SuperLady experience. There are specific areas that this movement tackles that are crucial to a woman's well being. The 6 areas that this movement focuses on are SuperLady HEALTH, SuperLady PRESENTATION, SuperLady FAITH, SuperLady FINANCES, SuperLady LOOK and SuperLady RELATIONSHIPS.




SuperLady LIVE MOVEMENT has stayed consistent, bringing a diverse audience and diverse speaker line-up, so men have a place in this movement as well. The men add a healthy dynamic to this SuperLady LIVE MOVEMENT speaking on topics like health and relationships. There has been positive feedback from women on the male speakers. A young woman expressed that she was blown away by the male perspective on relationships and plans to bring her boyfriend to the next session because they plan on getting married. She says, "What I heard will give us great tools to start our marriage off strong." The male participation has uplifted and enlightened the women and the response has been overwhelmingly positive.

The genuine and energetic spirit at this SuperLady LIVE MOVEMENT is contagious. Gurnell's "SuperLady" song has not only set the tone for a great movement, but has set the standard for empowering women and the community. Her 6 focus areas of the SuperLady LIVE MOVEMENT are essential to the totality of one's quality of life. Gurnell's vision is necessary and being embraced, but most importantly, it's creating positive change. Her passion and energy is executed on a daily basis and there's more to come from this SuperLady.

For more information on the SuperLady LIVE MOVEMENT, visit http://www.superladylive.com/.
SuperLady LIVE MOVEMENT visionary Loretta Williams Gurnell took some time to talk with Houston Style Magazine about this initiative of empowerment.

1. Talk about the speakers that you have selected for this SuperLady LIVE MOVEMENT.
Each speaker is experienced in one of our 6 focus areas. These speakers live the SuperLady lifestyle. They each have a great spirit and understand the vision and purpose of SuperLady LIVE MOVEMENT. Our speakers are willing to share their experiences and invaluable information with our attendees. They are speaking on their passion and share nuggets of wisdom. The speakers participating are in line with the movement and our attendees always want more. It simply works!
2. What is your goal for this movement?
We want to continue to secure strategic partnerships that embrace, uplift and promote the core principles of the movement. We also plan to launch SuperLady LIVE MOVEMENT in other Texas markets in 2015 and continue to expand the SuperGirl EXPERIENCE.

3. I know that you created this movement to inspire others, but what have you learned from hosting this initiative?
Starting this movement has increased my faith and strengthened my belief that all things are possible if you believe and obey God. He rewards those who diligently seek Him. I've come to realize that this movement is not and will not be for everyone and that is okay. I've also learned that people really are tired of the fluff and want to hear truth that will free them from wherever they are stuck in life. I appreciate my family so much more as my husband and children are right by my side in this initiative. My family is my everything and without them this SuperLady LIVE MOVEMENT would be a fraud. They keep me dreaming and focused.

4. What are your long term goals for this organization?
My long-term goal is for SuperLady LIVE MOVEMENT to employ a full-time staff with benefits. In addition, I would love to develop a series of on-going movements across the state of Texas within the next 7 months and establish a 501(c)3 status for the educational/professional development pieces we officer. Most importantly, I want to make positive change so women and their families will experience the best life possible. SuperLady LIVE MOVEMENT is not about me, but about the people touched by this movement.