David Tutera is Back With An All New Season of WE tv's DAVID TUTERA'S CELEBrations
Drama, Divas and David - This season, party planning is the easy part!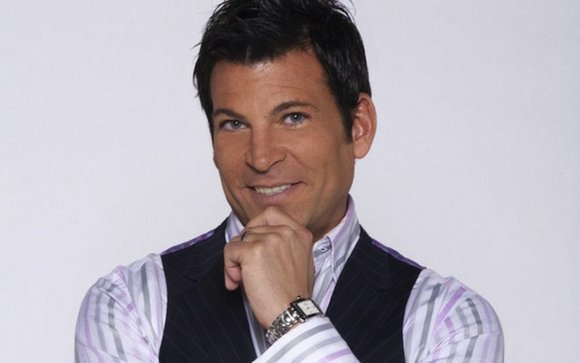 Event planner, father to Cielo, and shrink to the stars, celebrity party planner David Tutera is back with an all-new season of WE tv's DAVID TUTERA'S CELEBrations. David is undertaking some of the biggest celebrations of the year for some of Hollywood's biggest divas including Taylor Armstrong's wedding to lawyer John Bluher (The Real Housewives of Beverly Hills), a party for Jennifer 'JWoww' Farley (Jersey Shore, Snooki & JWoww), Lil' Kim's baby shower for daughter, Royal Reign, an anniversary party for Brandy and Ray J's parents, a self-indulgent party for the infamous Tanisha Thomas (Bad Girls Club), Amy Weber's twins' birthday party (WWE), Alexis Bellino's vow renewal (The Real Housewives of Orange County), and Jonathan Platero's ambush wedding to Oksana Dmytrenko (Dancing with the Stars). In this must-see new season of DAVID TUTERA'S CELEBrations, premiering Friday, August 1 at 9PM ET/PT, fashion flies, deadlines are missed and egos need to be checked at the door as reality TV's biggest personalities go toe-to-toe with David in a diva vs. divo battle.
David's not just planning weddings and birthday parties, he's planning life-changing moments for these public personas. The stakes are high, and high stakes mean high drama. It's up to David to keep these over-the-top celebs in line and get the job done. No demand, no deadline, no outrageous request is too big for this party planner extraordinaire, but will these reality stars' demands push him over the edge?
In the season premiere of DAVID TUTERA'S CELEBrations, David plans a jaw-dropping wedding for reality star Taylor Armstrong, former housewife on The Real Housewives of Beverly Hills, to lawyer John Bluher, with just two weeks notice. After her well-publicized divorce and the death of her first husband, will Taylor finally get the happily-ever-after she has been waiting for? She reluctantly entrusts David with every detail of the wedding, including selecting her wedding gown and not revealing it until Taylor's big day, which makes the Beverly Hills diva frantic. David is tasked with planning the event of Taylor's dreams, but will her controlling ways and Gemini tendencies prevent that from happening?
GET MORE DAVID TUTERA'S CELEBrations AT WEtv.COM
For more information on DAVID TUTERA'S CELEBrations, go to WEtv.com for a new Meme Generator to seed out the many faces of David with juicy quotes from the show! Weekly blogs from David will post after each episode as well as a 'Get The Party Look' that will let fans know how they can get the look that David designs each week. Like us on Facebook, follow @WEtv on Twitter (hashtag: #DavidTutera) and check us out on Instagram (IG: @WEtv) for inside information and special giveaways.
DAVID TUTERA'S CELEBrations is produced for WE tv by Pilgrim Studios, with Craig Piligian and Melodie Calvert serving as executive producers. Lauren P. Gellert and Kate Farrell serve as the executive producers for WE tv.
About WE tv
WE tv (www.wetv.com) showcases and celebrates modern women who are bold, independent and taking control of their lives. Whether they are celebrities like Joan Rivers or Toni Braxton, or everyday women, their stories are as relatable as they are entertaining. WE tv's popular slate of fresh and modern unscripted original series includes the hit shows Braxton Family Values, Joan & Melissa: Joan Knows Best? and Mary Mary, among others. WE tv will debut its first scripted series, The Divide, in 2014. Audiences connect to WE tv online, on demand and via social media. WE tv is owned and operated by AMC Networks Inc. and is available in over 85 million homes on every major cable, satellite and telco provider.