Palin calls for Obama's impeachment over border crisis
Willie Grace | 7/8/2014, 6:31 p.m. | Updated on 7/8/2014, 6:31 p.m.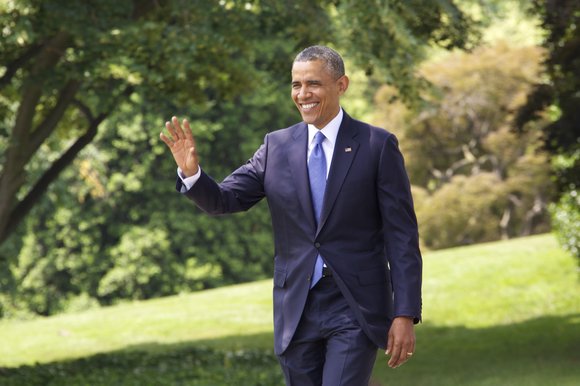 Sarah Palin said President Barack Obama's inaction over the escalating crisis on the southern border is grounds for impeachment.
The Republican firebrand wrote in a Breitbart op-ed published Tuesday that "(Obama's) unsecured border crisis is the last straw that makes the battered wife say, 'no mas.'"
Calls for impeachment are coming from his harshest critics on the right and have have intensified over the immigration crisis. However, such a step is farfetched, especially with Democrats currently controlling the Senate.
In the blistering op-ed, Palin accuses Obama of intentionally allowing immigrants into the United States, hampering American job opportunities.
"President Obama's rewarding of lawlessness, including his own, is the foundational problem here," she wrote.
"It's time to impeach; and on behalf of American workers and legal immigrants of all backgrounds, we should vehemently oppose any politician on the left or right who would hesitate in voting for articles of impeachment."
Republican opposition flares
Palin, the vice presidential candidate in 2008 and former governor of Alaska, is hardly the first conservative to accuse the President of unlawful activity.
But her pointed call for Obama's impeachment adds a high-profile voice to the crowd of Republicans pushing for congressional action over what they view as an overreach of executive authority.
Mike Huckabee also leveled heavy criticism at the commander in chief as a wave of illegal immigrants overwhelm federal facilities along the southern border.
In a statement Tuesday as Obama headed to Texas for a Democratic fundraising event, the former Arkansas governor and 2008 GOP presidential candidate slammed him for not planning to visit the border during his trip to the Lone Star state.
"While tens of thousands of illegal immigrants storm across the border, the President is jetting off to Texas -- but not to see first-hand the mess his policies have created, but to attend high-dollar dinners with the 'swells' and extract as much money as he can from some people who got rich on the very oil he despises," Huckabee said.
Huckabee did not call for Obama's impeachment over the border crisis but has predicted in the past that Obama would be ousted from office because of the 2012 attack in Benghazi that left four Americans dead.
Political tensions in Texas
Palin and Huckabee's sharp language comes as Obama requested nearly $4 billion in emergency funds from Congress to better respond to the influx of immigrants illegally crossing the border into Texas.
The state's governor Rick Perry, who ran for president in 2012 and is considering launching another bid in 2016, refused to greet the President at the airport and instead called for a meeting to discuss the immigration crisis.
Perry later accepted the White House's invitation for the Republican governor to meet with Obama in Dallas.
Republicans and even some Democrats contend Obama isn't doing enough to quell a surge of undocumented immigrants from Central America.
Critics say the administration invited the problem by halting deportations of some young immigrants who came to the country illegally in past years.
For more information go to http:.//www.cnn.com