Israel's president: Gaza ground offensive 'may happen quite soon'
Willie Grace | 7/9/2014, 5:56 p.m. | Updated on 7/9/2014, 5:56 p.m.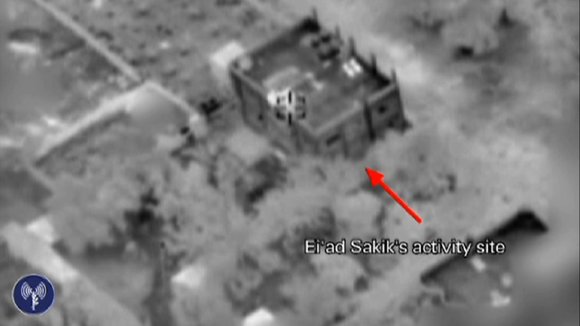 Israeli airstrikes pounded targets in Gaza, killing at least 19 people Wednesday as dozens of militant rockets streaked into Israel.
The continued Hamas barrage prompted Israel's Prime Minister to say he would step up the offensive against the militant group.
"The operation will be expanded and will continue until the firing at our communities stops and quiet is restored," Prime Minister Benjamin Netanyahu said Wednesday.
He did not detail what the expansion would entail, but President Shimon Peres said in an exclusive interview Wednesday with CNN's Becky Anderson that a ground offensive "may happen quite soon" unless Hamas stops firing rockets at Israel.
"We warned them. We asked them to stop it," Perez told Anderson. "We waited one day, two days, three days and they continued, and they spread their fire on more areas in Israel."
Israel Defense Forces said it had struck 550 Hamas targets since the operation began, including 60 rocket launchers, 31 tunnels and the homes of 11 senior Hamas leaders, which the IDF described as "command centers" for the militant group.
At least 43 people had died in the Israeli strikes as of Wednesday afternoon, according to Palestinian medical sources.
Among those killed Wednesday in Gaza were two children, their mother and two others who died in an Israeli strike on a home, Palestinian medical sources said. Some members of the family are believed to have links to Hamas, Palestinian security sources said.
In Israel, the military said 48 rockets had been fired from Gaza since midnight. Fourteen of them were intercepted by Israel's Iron Dome defense system, the IDF said.
Israeli officials reported no deaths, but expressed rising concern about the range of Hamas rockets, some of which reached the area around Tel Aviv on Tuesday.
Palestinian Authority President Mahmoud Abbas convened an emergency meeting of his Cabinet on Wednesday to discuss the crisis amid concerns that Israeli forces could be preparing for a ground incursion.
On Tuesday, the Israeli Cabinet authorized the military to call up 40,000 troops if needed. That is 10,000 more than were called up during Israel's offensive into Gaza in November of 2012. Only about 1,000 have been mobilized so far.
Israeli Intelligence Minister Yuval Steinitz told CNN a ground operation "might become necessary."
Netanyahu, after holding security consultations with top officials Wednesday, said "the IDF is prepared for all possibilities."
"Our military is strong, the home front is steadfast and our people are united," he said.
Maen Rashid Areikat, the Palestinian representative to the United States said he hopes the conflict does not escalate into an "all-out war."
"For the Israelis, they have to know that there's no military solution to this problem," he said.
New threat
Rocket attacks into Israel are nothing new, but their reach has grown.
Warning sirens that blared Tuesday in Tel Aviv, one of Israel's most populated areas, showed a threat Israel had warned of. The country said militants' rockets from Gaza are powerful enough to reach 3.5 million Israeli residents.