Obama heads to Texas amid 'urgent humanitarian situation'
Willie Grace | 7/9/2014, 5:43 p.m. | Updated on 7/9/2014, 5:43 p.m.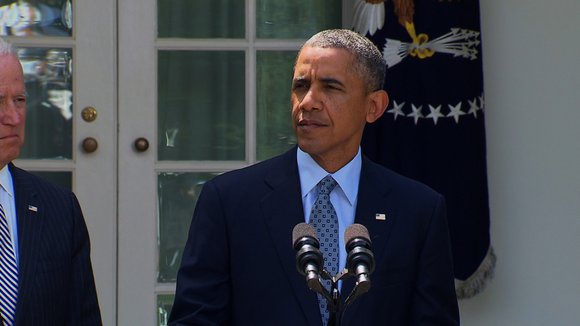 He'll be in Texas on Wednesday, but President Barack Obama has no plans to visit the border area where tens of thousands of young immigrants have illegally entered the country in recent months to create what his administration labels an urgent humanitarian problem.
The trip to the Lone Star State -- the epicenter of the immigration influx -- includes a Democratic Party fundraising event, and after some political squabbling, a meeting with Republican Gov. Rick Perry. That's not enough for GOP critics and even some of Obama's fellow Democrats.
"This is a real crisis and the President needs to treat it as such and I think traveling from Dallas to the border is a 500-mile trip," Republican Sen. John Cornyn of Texas told CNN on Wednesday. "That's not far to go on Air Force One."
Former Arkansas Gov. Mike Huckabee, a possible GOP presidential nominee in 2016, called the situation similar to the much-disparaged federal response to Hurricane Katrina by the Bush administration.
"For him to go to Texas and spend two days shaking down donors and never even getting near the border mess he helped create would be like flying into New Orleans in the highest waters of Katrina to eat Creole cooking, but never getting near the Ninth Ward, the Superdome, or the Convention Center where thousands languished in squalor," Huckabee said.
In a conference call Tuesday, White House officials repeatedly emphasized that Obama regarded the immigration crisis as "an urgent humanitarian situation." They announced the President is asking Congress for $3.7 billion in emergency funds to better respond to it.
Immigrant surge
The surge of undocumented youths from Central America has overwhelmed federal facilities and revived the debate over an immigration policy overhaul, one of the most partisan issues in the already overheated political climate of an election year.
U.S. authorities estimate that between 60,000 to 80,000 children without parents will cross the border this year.
Obama administration officials blame the immigrant influx on dire conditions in countries such as Guatemala, Honduras and El Salvador that cause people to send their children on dangerous journeys to the United States with smugglers who falsely promise the kids won't get deported.
Critics, however, say the administration invited the problem by halting deportations of some young immigrants who came to the country illegally in past years.
Now, human smugglers tell people desperate for their children to escape tough conditions in Central America that the United States won't send them back, according to Cornyn and others who say the immigrants face threats including assault, rape and other hardships on the journey through Mexico to the border.
"The vulnerability that the cartels and other criminal organizations have figured out, because they're making big money off of transporting these kids up through Mexico from Central America, is the lack of detention pending a court hearing," Cornyn said Wednesday. "What's happened is these children are placed with family members in the United States, and given a notice to appear for a later court hearing. Some have called this a notice to disappear, not a notice to appear," as most don't show up.