Obama heads to Texas amid 'urgent humanitarian situation'
Willie Grace | 7/9/2014, 5:43 p.m. | Updated on 7/9/2014, 5:43 p.m.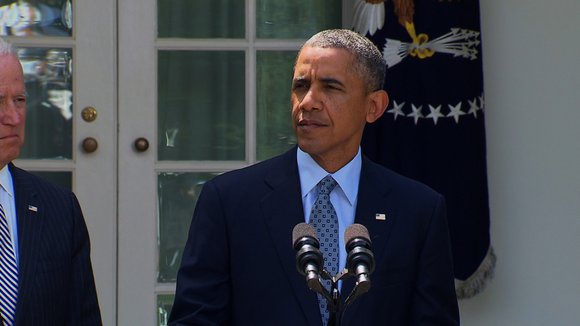 Political squabble
While Obama won't go to the border to personally witness the impact of the immigrant flood, his agenda includes a meeting with faith leaders and local officials offering to help deal with the influx.
The White House invited Perry to attend that gathering after the governor called for a meeting to discuss immigration but refused simply to greet Obama at the airport.
Perry, who is seeking to reestablish his national credentials after a disastrous bid for the GOP presidential nomination in 2012, said Tuesday he looked forward to meeting with the President.
Meanwhile, Democratic Rep. Henry Cuellar of Texas says Obama should go to the border to see the problem for himself.
Funding request
Obama's emergency funding request is just over 10% of the $30 billion in proposed border security funding included in the Senate-passed immigration reform bill that House Republican leaders have stalled.
It seeks $1.6 billion for the Department of Homeland Security and the Department of Justice to bolster customs and border efforts as well as cracking down on smugglers, and $300 million for the State Department to help Mexico and Central American governments counter what officials called "misinformation" by smugglers about what immigrants will face on the journey to the U.S. border and once they arrive.
The request includes $1.8 billion for the Department of Health and Human Services to provide care for unaccompanied children crossing the border.
Government officials said that money would allow the United States to meet its legal and moral obligations for such youngsters now being crammed in overcrowded facilities in several states while awaiting processing.
Military role
On Tuesday, the Pentagon said it was processing requests from HHS to house more minors, and Defense Department spokesman Rear Adm. John Kirby said the matter was still under discussion. But U.S. officials told CNN's Barbara Starr the requests cover about 5,000 new beds at military facilities. There is space for about 3,600 children, and the current arrangement is to use military facilities for up to 120 days.
Kirby wouldn't speculate whether the time frame would be extended, although he said it's something that would be discussed.
Partisan divide
It was unclear how much cooperation Obama would get from congressional Republicans. A spokesman for House Speaker John Boehner said the request would be considered.
On the Senate side, Republicans argued for changing a 2008 law signed by former President George W. Bush that requires deportation hearings before sending back children from countries that do not border the U.S.
"I don't think we can solve the problem unless we revisit" the law, Senator Cornyn said Tuesday.
Democrats, however, want to keep the law intact to ensure that any children who deserve asylum get due process in the form of a full hearing.
"I'm not inclined to support any policy change that ultimately undermines existing law and would violate the right of someone who is actually a legitimate refugee," said Sen. Robert Menendez of New Jersey, a Democrat of Cuban descent who chairs the Senate Foreign Relations Committee. "Each child should be able to make their case as to why they qualify. Many will be sent back but others will qualify."
For more information go to http://www.cnn.com