OWN:Oprah Winfrey Network Takes Culinary Flight with 'Wingmen' on Saturday, August 16th
Special Follows Two Best Friends Frying Up Big Dreams with their Small-town Food Truck Business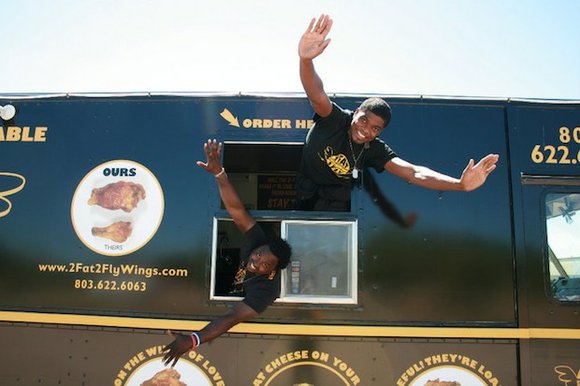 Los Angeles – OWN: Oprah Winfrey Network will take culinary flight with "Wingmen" Saturday, August 16 at 10 p.m. ET/PT. The one-hour special features Columbia, South Carolina best friends Ramone Dickerson and Corey Simmons as they navigate 2 Fat 2 Fly, their small-town food truck business selling a revolutionary twist on a culinary classic: stuffed chicken wings.
Self-made and self-taught, Corey and Ramone will stuff anything into a chicken wing and get inspiration for their creations from the most unexpected places. As seen in the special, their marrying of fried chicken wings with savory ingredients such as jambalaya or mac & cheese inside a chicken wing are by trial and error, a cue to how the pair often tackle business choices. For these two best friends, this isn't just another food trend, it's their meal ticket and chance to strike it rich. "Wingmen" will follow the pair as they attempt to get their crazy business habits in order and make their dreams of owning a million-dollar wing empire a reality.
Cameras will roll as 2 Fat 2 Fly attempts to take the top prize at Hilton Head Island's annual Wingfest. For a sneak peek, please visit: www.oprah.com/wingmenfirstlook
"Wingmen" is executive produced by Paperny Entertainment.
About OWN: Oprah Winfrey Network
OWN: Oprah Winfrey Network is the first and only network named for, and inspired by, a single iconic leader. Oprah Winfrey's heart and creative instincts inform the brand – and the magnetism of the channel. Winfrey provides leadership in programming and attracts superstar talent to join her in primetime, building a global community of like-minded viewers and leading that community to connect on social media and beyond. OWN is a singular destination on cable. Depth with edge. Heart. Star power. Connection. And endless possibilities. OWN is a joint venture between Harpo, Inc. and Discovery Communications. The network debuted on January 1, 2011 and is available in 85 million homes. The venture also includes the award-winning digital platform Oprah.com. For more information, please visit www.oprah.com/own and www.press.discovery.com/us/own.