New wave of Israeli airstrikes hammers Gaza
Willie Grace | 7/10/2014, 6:03 p.m. | Updated on 7/10/2014, 6:03 p.m.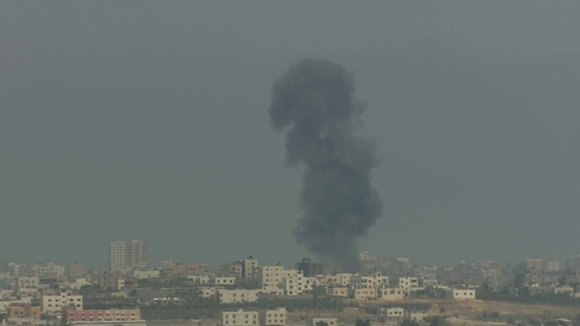 A new wave of Israeli airstrikes battered areas of Gaza early Thursday, continuing the deadly onslaught aimed at stopping militant rocket fire into Israel.
The days-long aerial bombardment of Gaza has killed at least 81 Palestinians, including women and children, and injured more than 500 since it began Monday, according to Palestinian officials.
Israeli Prime Minister Benjamin Netanyahu said the offensive would be expanded and continue "until the firing at our communities stops and quiet is restored."
But there was no sign that Hamas and other militant groups in Gaza were backing down as rockets continued to streak over the border into southern Israel. No Israelis have been killed so far in the rocket attacks.
Two Israeli soldiers were wounded in a rocket attack from Gaza into southern Israel, the Israeli military said. One of the soldiers is moderately wounded and the other is lightly wounded, the military said.
Four rockets were fired over Jerusalem on Thursday, Israel's military said, but two of them were intercepted and the others hit open areas.
Some Israeli officials have hinted at the possibility of a ground offensive in Gaza, although questions remain about the government's appetite for such a conflict.
Netanyahu didn't specify what the expansion of the current operation would entail, but he said Israel's military "is prepared for all possibilities."
U.S. Secretary of State John Kerry, speaking at a news conference in Beijing, said that the United States supports Israel's right to defend itself and that a de-escalation depends on Hamas actions.
Kerry said he has been in touch with Israeli and Palestinian leaders about working toward a cease-fire, but as long as rockets are being fired into Israel, the situation remains complicated.
Sides speak at U.N. Security Council meeting
Israel and the Palestinians laid out their positions at a U.N. Security Council meeting Thursday, where there were no surprises.
Ambassador Riyad Mansour, permanent observer of the State of Palestine to the United Nations, accused Israel of "terrorizing our people, killing dozens of civilians and injuring hundreds."
Allegations by Israel that Palestinians are using human shields are "audacious," he said, and he rejected the argument that Israel is defending itself.
Israel "deliberately carries out reprisals and collective punishment against the Palestinian people in declared retaliation and revenge ... for the killing of the three Israeli settlers, which the Palestinian leadership has clearly condemned," Mansour said.
Israel, for its part, called on the Security Council to condemn Hamas and its launching of rockets across the border.
Ron Prosor, Israeli ambassador to the U.N., played a recording of a siren during the middle of his remarks, to show how Israelis only have 15 seconds, he said, to run for cover.
"Asking Israel to show restraint while our cities are under constant attack is like asking the fire brigade to battle an inferno with nothing more than buckets of water," he said.
Ground offensive?
Israeli President Shimon Peres, whose role is largely ceremonial and is not involved in setting policy, said in an exclusive interview with CNN's Becky Anderson that he believed a ground offensive "may happen quite soon" unless Hamas stops firing rockets at Israel.