New wave of Israeli airstrikes hammers Gaza
Willie Grace | 7/10/2014, 6:03 p.m. | Updated on 7/10/2014, 6:03 p.m.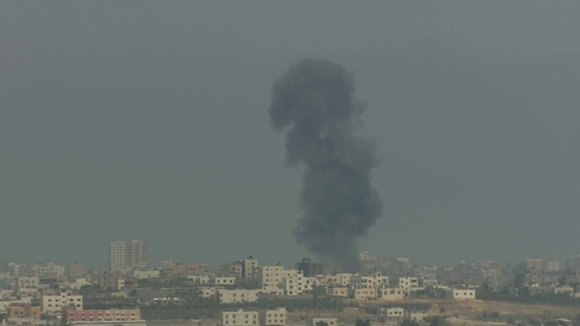 "We warned them. We asked them to stop it," Peres told Anderson. "We waited one day, two days, three days and they continued, and they spread their fire on more areas in Israel."
While Peres was speaking on his own and his position may not outline an official government policy, Israeli Intelligence Minister Yuval Steinitz earlier told CNN that a ground operation "might become necessary."
Palestinian Authority President Mahmoud Abbas, meanwhile, convened an emergency meeting of his Cabinet on Wednesday to discuss the crisis.
"This war is not against Hamas or another political party, but it is against the Palestinian people," he told the media afterward. "What do you call this crime? What is this crime known under international law? To kill entire families, is this collective punishment?
"This is called collective genocide."
A Hamas spokesman, Sami Abu Zuhri, said Israel's threat to launch a "stupid" ground offensive didn't scare anyone, and fighters from Hamas' military wing were ready to face off with Israel's "coward" soldiers in Gaza.
Rising death toll in Gaza
The comments came as the death toll rose in Gaza, where the Israel Defense Forces has struck at 785 Hamas targets since launching its offensive Monday. It said it hit more than 100 different targets between midnight and about 7 a.m. Thursday.
The IDF has said its targets include rocket launchers, tunnels and the homes of senior Hamas leaders, which the IDF describes as "command centers."
Among the dead are 22 children and 15 women, including an 18-month-old baby and an 80-year-old woman, according to information from the Palestinian Health Ministry.
The Palestine Liberation Organization said Israeli bombs have hit civilian infrastructure, including a line that provides water to a refugee camp and a sewage plant.
The PLO shared a list with 86 names of what it says are victims of Israeli airstrikes, which includes at least six children under age 10 among the dead.
The IDF has not responded to the allegations that it has targeted civilian infrastructure but said it uses phone calls and drops empty shells on roofs -- what it calls "roof knocking" -- to warn civilians that airstrikes are imminent.
In one case, members of a family returned to a house in Gaza shortly after having been warned to evacuate it, said Lt. Col. Peter Lerner, a military spokesman. They were caught in the airstrike.
He called their deaths a tragedy, saying, "This is not what the IDF does."
The Israeli Cabinet has authorized the military to call up 40,000 troops if needed. That is 10,000 more than were called up during Israel's offensive into Gaza in November 2012. Only about 1,000 have been mobilized so far.
Teens' deaths set off latest crisis
The region has many depressing precedents when it comes to violence. Palestinians revolted twice in the past three decades against Israel's occupation of East Jerusalem, the West Bank and the Gaza Strip. Israel conquered and occupied those territories in a June 1967 war. Gaza is now under the control of Hamas.