Texas governor lashes out at Obama over immigration crisis
Willie Grace | 7/10/2014, 3:01 p.m. | Updated on 7/10/2014, 3:01 p.m.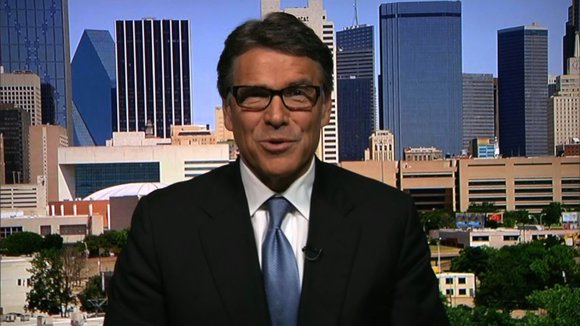 Texas Gov. Rick Perry and others are lashing out at President Barack Obama's decision not to tour border facilities overwhelmed by a flood of undocumented children, saying the U.S. leader needs to see with his own eyes what both sides agree is a humanitarian crisis.
"The American people expect to see their President when there is a disaster," Perry told CNN's Kate Bolduan in an interview that aired Thursday, citing Obama's trip to the East Coast to tour damage caused by Superstorm Sandy in 2012. "He showed up at Sandy. Why not Texas?"
Both Republicans and the White House have described the crush of Central American children as a humanitarian crisis, but Obama said Wednesday that visiting facilities where the children are processed and detained would be little more than a photo opportunity.
"There's nothing that is taking place down there that I am not intimately aware of and briefed on. This isn't theater. This is a problem," Obama said Wednesday.
The controversy has been compared to President George W. Bush's initial decision not to tour the storm-ravaged Gulf Coast after 2005's Hurricane Katrina.
Bush opted instead to fly over the coast in Air Force One, resulting in a famous picture of the President peering down at the devastation from his jet. It left many feeling that Bush was detached and uncaring. Bush later acknowledged that failing to land and at least express solidarity with victims was a mistake.
Perry alluded to that Wednesday in an interview on the Fox News program "Hannity."
"I'm pretty sure that if George Bush had said, 'well I sent my FEMA director multiple times,' he still would have been criticized greatly," he told "Hannity," according to a report on the network's website.
"Because you need to go. That's what governors do, that's what presidents do," Perry said. "When there are natural disasters, when there are crises like these, a president needs to be there to show the American people, No. 1, that he understands."
'Go down there and see what we're facing'
Even some Democrats were critical of the decision. U.S. Rep. Henry Cuellar, D-Texas, said on CNN's "New Day" that it's important for Obama to see what the children are going through.
"I'm interested in him looking at the kids. The kids that I've talked to, little innocent little boys and girls that have come across and have traveled over 1,000 miles, that one-third of the girls have been abused and raped on the way up here," he said. "The last young kid was an 11-year-old little boy from Guatemala that died of dehydration. That is the face that I want him to see. Don't take any cameras, Mr. President, but go down there and see what we're facing."
Obama has called on Congress to quickly approve his request for $3.7 billion in emergency funding to deal with the crisis, which has seen thousands of undocumented children crossing the border without their parents.