Texas governor lashes out at Obama over immigration crisis
Willie Grace | 7/10/2014, 3:01 p.m. | Updated on 7/10/2014, 3:01 p.m.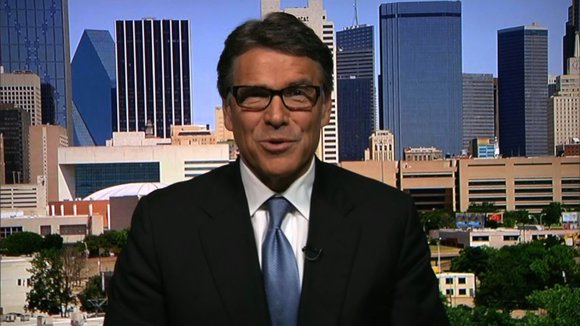 Many have surrendered themselves to U.S. Customs and Border Protection officers on the belief they will be allowed to stay in the country, and officials have struggled to house the children amid a staggering backlog of immigration cases.
Obama said Wednesday that "the problem here is not a major disagreement around the actions that could be helpful in dealing with the problem."
The challenge he said, is whether Congress is prepared to "put the resources in place to get this done."
"Are folks more interested in politics, or are they more interested in solving the problem?" he said.
Process overwhelmed
The surge of undocumented youths from Central America has overwhelmed federal facilities and revived the debate over an immigration policy overhaul, one of the most partisan issues in the already overheated political climate of an election year.
U.S. authorities estimate that 60,000 to 80,000 undocumented children will cross the border without their parents this year. While many have been released to family pending deportation hearings, others have been detained by authorities amid a growing backlog of pending cases.
Obama administration officials blame the influx on dire conditions in countries such as Guatemala, Honduras and El Salvador.
Critics, however, say the administration invited the problem by halting deportations of some young immigrants who arrived illegally in past years.
"The children are a symptom of policies that have enticed them to come," Perry said. "The first thing you have to do is stop the flow, because if we don't, then the problem's not going to be the size we have today."
Republicans have called for the repeal of a 2008 law signed by President George W. Bush that requires deportation hearings before sending back children from countries that do not border the United States.
"I don't think we can solve the problem unless we revisit" the law, Texas Republican Sen. John Cornyn said.
"What's happened is these children are placed with family members in the United States and given a notice to appear for a later court hearing. Some have called this a notice to disappear, not a notice to appear," as most don't show up, he said.
Another Republican, Sen. Ron Johnson of Wisconsin, said the United States should immediately fly the children back to their home countries. It would cost less and signal U.S. intolerance for those who enter the country illegally, he said.
Funding request
Obama's emergency funding request seeks $1.6 billion to bolster customs and border efforts as well as crack down on smugglers.
Another $300 million would go to help Mexico and Central American governments counter claims by smugglers to desperate parents that U.S. officials won't send their children back.
"While we intend to do the right thing by these children, their parents need to know that this is an incredibly dangerous situation and it is unlikely that their children will be able to stay," Obama said.
The request also includes $1.8 billion to provide care for unaccompanied children crossing the border.