Why weeping Brazil fans applauded Germany's team
Willie Grace | 7/10/2014, 3:38 p.m. | Updated on 7/10/2014, 3:38 p.m.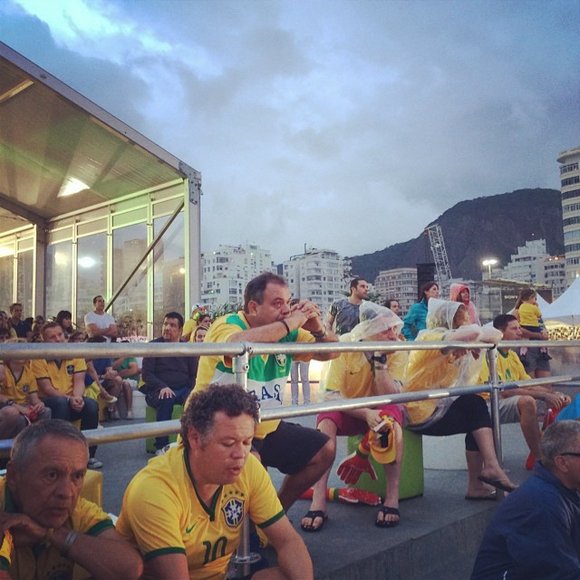 It was a beating, a thrashing, a rout, a waxing, a debacle. Sport is well-equipped with words to describe what took place in the semifinal match between Germany and Brazil on Tuesday, but none of them, at least not yet, can capture what really went down.
One of the oft-cited reasons Americans give for not embracing the most popular sport in the world is the low-scoring action that generally personifies the so-called beautiful game. Excuse me? In this semifinal's first half, Germany scored five goals in 18 minutes, goals that came so fast and so furious one could hardly keep track: minute 11, minute 23, minute 24, minute 26, minute 29.
The final score of 7-1, which propelled Germany into the final and Brazil into a game for third place, is historic in and of itself. And never before had five goals been scored in the first half of a World Cup match. Never before had four goals been scored in a six-minute stretch.
And that it took place in Brazil is no small matter. Despite the uproar over the money the nation spent building soccer cathedrals, most Brazilians were not only ready to celebrate victory, they expected it. Their national team had not lost an official game on home soil since 1975, making the dream of winning the country's sixth World Cup title seem not just obtainable, but a sure thing.
Without question, excuses can be made. Brazil played without its captain and central defender, Thiago Silva, who had been suspended after the match against Colombia for the accumulation of yellow cards. Without him, the Brazilian defense appeared powerless and confused against the likes of Thomas Mueller and company. Also missing, of course, was Brazil's star, forward Neymar, who had been kneed in the back by Colombian Juan Zuniga, fracturing a vertebra in his spine.
But it is unlikely even a healthy Neymar could have created balance against such offense. Germany was relentless perfection, taking advantage of every opportunity Brazil offered while simultaneously creating its own prospects.
Some now worry that the disenchantment on display before the tournament started -- the fury of protests against the billions Brazil spent on the tournament marked by "Go Home FIFA" signs throughout the country -- will reignite in force, now that the home team can only hope for a third-place finish at best. Indeed within seconds of the end, Twitter feeds wrongly assumed images of rioting Brazilians demonstrated postgame fury when, it turns out, people were posting older photos of the protests that had taken place throughout the spring.
And as the inevitable finger-pointing against coach Luiz Felipe Scolari and his players begins, we can hope that sanity will prevail, taking to heart Scolari's wisdom in his wrenching postgame press conference that "life goes on," rather than the criminal soccer passion that apparently led to the killing of Colombian Andres Escobar, who scored the own-goal that led to his team's loss against the United States in 1994.
There are signs to give hope that the love for the game in soccer-crazed Brazil, a country that truly epitomizes what it means to live and breathe a sport, will transcend the devastation of the historic 7-1 score. At the conclusion of the semifinal match, weeping Brazilians stood in tribute to the German team, which had just handed them their most humiliating moment since their loss in 1950 to Uruguay, considered by many to be one of the most shocking results in World Cup history.
Without question, this game, and on home turf, trumps that earlier one. But the act of respect shown to Germany by the Brazilian ovation in Belo Horizonte stadium demonstrates how sometimes it is more important to love the game than to win a game.
Because it's the beautiful game, indeed.
For more information go to http://www.cnn.com