World Cup: Brazil dreams destroyed by ruthless Germany
Willie Grace | 7/10/2014, 3:34 p.m. | Updated on 7/10/2014, 3:34 p.m.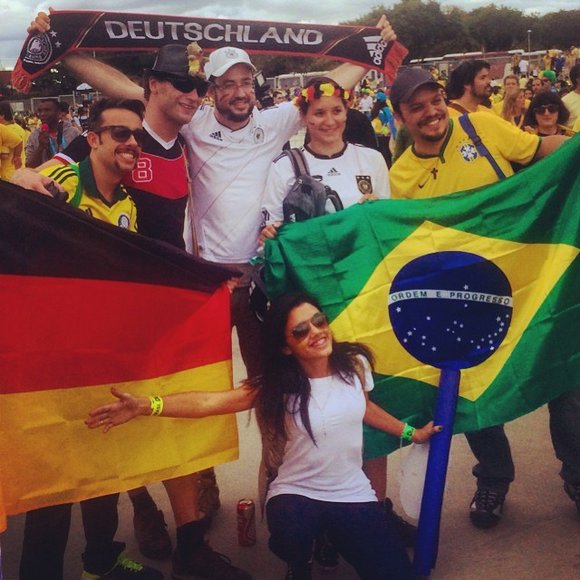 First there was disbelief. Then there were tears.
Beaten, battered and bruised -- Brazil's World Cup dream is over.
It's a result that is likely to take some time to comprehend for a nation that many view as guardians of football's soul.
Brazil, unbeaten in a competitive fixture at home since 1975, had been on its way to heaven, according to team manager Luis Felipe Scolari, as players sought a sixth world crown.
Ninety minutes later, Scolari, his players and their millions of fans must have thought they had tumbled into Dante's Inferno.
They had congregated in Belo Horizonte -- the scene of Brazil's last competitive defeat on home soil -- to roar their team into Sunday's final in Rio de Janeiro.
But nobody had told Germany as the European side produced a performance that was as staggering as the result.
A 7-1 defeat almost flattered Brazil, given its dire showing.
Outplayed, outfought, outthought -- if this had been a boxing match, it would have been stopped long before the halftime whistle.
And yet, this had been coming.
There are few who would have expected the punishment to be so severe, but those in yellow who had kicked and dived their way around the field over the past few weeks were never likely to succeed in the long term.
Let there be no doubt -- there is and was nothing beautiful about this Brazilian side.
Jogo Bonito is just a sepia toned memory -- like a teenage fling or a summer romance.
This Brazil side is like an errant school child who plays up as often as possible until somebody steps forward to put it back in its place.
That petulance was quickly displayed as Marcelo claimed an early penalty after an impeccably timed Philipp Lahm tackle.
Occasionally, the errant child gets a helping hand, as it did in its opening game against Croatia or during its quarterfinal victory over Colombia.
But what Brazil and its carefree kids had not bargained for was that one teacher who petrifies everybody and chills students to the bone.
You know the teacher -- the one that doesn't even need to speak to get his or her message across when just an ice cold stare will suffice.
The teacher who can cause nightmares and bring out cold sweats with just a glance is the one which turned up in Belo Horizonte with the name of Germany displayed proudly upon its shirt.
This was the day Brazil was taught a lesson -- and what a painful lesson it was as Germany provided a stark reminder of just how far those in yellow have fallen.
There isn't a detention long enough for those who produced Brazil's most insipid performances in World Cup history and the heaviest defeat in the country's history.
Five times has Brazil held the World Cup trophy aloft -- but this current generation does not come close in comparison to any of those that have been successful in years past.