New Callaway Corvette Stingray packs 627-hp
Willie Grace | 7/11/2014, 3:17 p.m. | Updated on 7/11/2014, 3:17 p.m.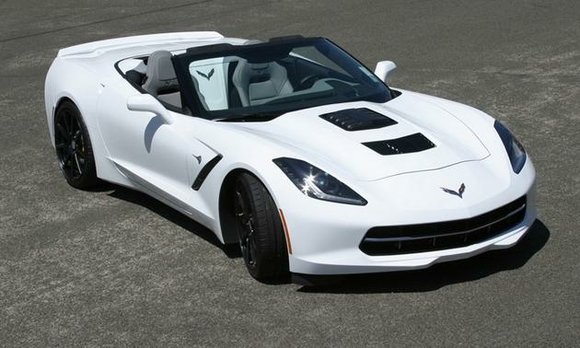 Callaway's formula for making the C7 Corvette even more potent should be familiar to anyone who's followed the cars coming out of this tuner. For the Corvette, Callaway has added a 2.3-liter supercharger system featuring a new intake manifold design and a new intercooler design. The intercooler itself now features three liquid-to-air cooling elements, which Callaway says improves the inlet air-cooling efficiency. The design of the supercharger housing itself, which extends through the hood, produces additional reduction of inlet air temperature -- plus it looks cool. And the long-runner manifold has been engineered to increase midrange torque, and is able to put out 57 lb-ft more than the intake manifold that was offered on last year's Callaway Corvette.
The result is 627-hp reached at 6,400 rpm and 610 lb-ft of torque at 4,400 rpm, with Callaway using the same SAE-certified power correction method as Chevrolet to rate the performance of the car. But using the standard corrected computation for power and torque, as used by numerous aftermarket performance shops, Callaway's version of the Stingray would be rated at 657-hp and 639 lb-ft of torque.
As many of you have undoubtedly noticed by now, Callaway's version of the Stingray does fall a bit short in terms of numbers in comparison with what the upcoming Z06 Corvette will produce: 650-hp and 650 lb-ft of torque. Chevrolet was promising at least 625-hp during the development stage of the Z06, but the final power figures surprised just about everyone when they were revealed a month ago.
For more information go to http://www.autoweek.com