Rocket fired into northern Israel from Lebanon as Gaza conflict continues
Willie Grace | 7/11/2014, 2:09 p.m. | Updated on 7/11/2014, 2:09 p.m.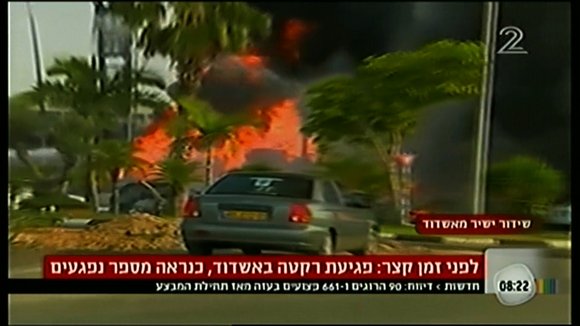 Israel faced attack from a second front Friday, but it is unlikely that a rocket fired from Lebanon signifies the widening of a conflict that has left at least 100 dead in Gaza.
The rocket launched from Lebanon landed near the northern Israeli town of Metula, which sits right by the Lebanese border, and no damage or injuries have been reported. It was not immediately clear who fired the rocket.
An Israel Defense Forces spokesman said Israel holds the Lebanese government responsible for the attack, but concerns that Israel will face a two-front conflict are unlikely to be realized.
Hezbollah, which operates in Lebanon and is caught up in other conflicts in the region, probably does not have the appetite to start a war with Israel.
Thousands of rockets were fired from Lebanon into Israel during a war in 2006, but rocket attacks since then have been sporadic. Tensions are always high between Hezbollah and Israel, but Hezbollah's involvement in Syria's civil war means that a fight with Israel might not make sense.
Nonetheless, Israel responded with artillery that landed in the vicinity of the Lebanese town of Kfar Shouba. No casualties were reported, the Lebanese army said.
Israel continued to weather rocket attacks by the Palestinian group Hamas in Gaza, but virtually all of the casualties in the conflict have been suffered on the Gazan side.
Though menacing, nearly all the Hamas rockets have been intercepted by the Israeli air defense system or struck empty areas. Airstrikes by Israel in Gaza, in contrast, have been blamed for at least 100 deaths, including 22 children and 20 women, a spokesman for Gaza's Ministry of Health said.
Israel calls up reservists
As fears of an Israeli ground assault grew among Gaza residents Thursday, Israel revealed it has beefed up its forces by calling about 30,000 reservists to their units.
"We are utilizing that force to enable us to create a substantial force around Gaza, that if it is required, we'll be able to mobilize as soon as possible," Israel Defense Forces spokesman Peter Lerner told CNN's Wolf Blitzer.
The Israeli Cabinet has authorized the military to call up 40,000 troops if needed. That is 10,000 more than were called up during Israel's offensive into Gaza in November 2012.
Government spokesman Mark Regev said units have been deployed.
"We're ready to go, if we need to go," he told Blitzer.
Regev said Israel didn't want a situation where Hamas, which controls Gaza, was given a "timeout" where it could regroup before restarting its attacks.
Gaza toll rises
Hamas' military wing, meanwhile, said in a video statement late Thursday that it was ready for an extended confrontation.
"We assure the enemy that we have prepared ourselves for a very long battle, not for a week or 10 days as described by some of the enemy's commanders, but for very long weeks," the speaker said in the video, wearing camouflage fatigues with most of his face covered by a scarf.