U.S. Premiere! Experience Latest Star Trek Movies with Live Orchestra
Houston Symphony Performs J.J. Abrams' Star Trek and Star Trek Into Darkness—Films with Live Orchestra on July 18 and 19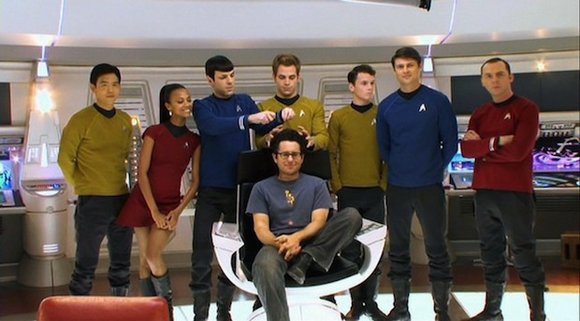 Composer Michael Giacchino in Attendance for Both Performances and
Available for Exclusive Meet-and-Greet
HOUSTON (July 11, 2014) – Movie fans have another way to experience two blockbuster favorites this summer. On July 18 and 19, the Houston Symphony will perform the film scores live on the Jones Hall stage as audiences watch director J.J. Abrams' mega-hits Star Trek and Star Trek Into Darkness on a huge screen suspended above the orchestra. The live musical performance will synchronize perfectly with the film and blend seamlessly with dialogue and sound-effects tracks, creating a truly unique and thrilling movie-watching experience, as audiences witness composer Michael Giacchino's masterful scores recreated live before their eyes.
Giacchino himself, a special guest in attendance for both performances, will participate in a brief post-concert question and answer session from the stage before heading to an exclusive meet-and-greet session for those audiences with a meet-and-greet ticket.
The Star Trek presentations are part of the Houston Symphony's annual "Symphony Summer in the City" concert series at Jones Hall in June and July. Focusing on a wide range of recognizable entertainment, these summer programs encourage audiences to experience the live sights and sounds of the orchestra in unique and innovative ways.
U.S. Premiere!
Star Trek – Film with Live Orchestra
Friday, July 18, 2014, 7:30pm
Star Trek Into Darkness – Film with Live Orchestra
Saturday, July 19, 2014, 7:30pm
Constantine Kitsopoulos, conductor
Michael Giacchino, composer
Space is still the final frontier… and director J.J. Abrams re-imagined the iconic Star Trek franchise with two of the most exciting and irresistible blockbusters in recent movie-going history: Star Trek (2009) and Star Trek Into Darkness (2013). The Houston Symphony proudly presents the US premieres of these two spectacular films. So prepare for warp speed as you experience composer Michael Giacchino's thrilling scores performed live to picture... and boldly go where no one has gone before!
Website: www.houstonsymphony.org/startrek
Tickets: from $29
Discount: save 10% when buying tickets to both movies
Meet-and-Greet Add-On Ticket: $50
About the Houston Symphony
During the current 2014-15 Season, the Houston Symphony enters its second century as one of America's leading orchestras with a full complement of concert, community, education, touring and recording activities. This season also marks the inaugural year for new Music Director Andrés Orozco-Estrada, the organization's first Hispanic music director and 15th overall. The Houston Symphony is one of the oldest performing arts organizations in Texas whose inaugural performance was held at The Majestic Theater in downtown Houston on June 21, 1913. Today, with an annual operating budget of $30.7 million, the full-time ensemble of 87 professional musicians is the largest performing arts organization in Houston, presenting more than 286 performances for 300,000 people, including 82,000 children, annually. For tickets and more information, please visit www.houstonsymphony.org or call 713-224-7575.