The President and the Texas Bar B Que Joint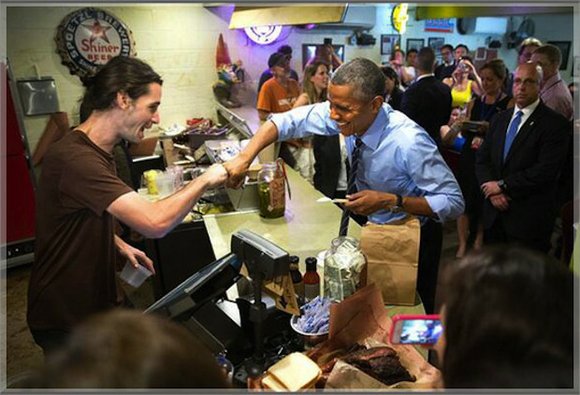 President Obama had lunch at a Texas BBQ restaurant last week. But it was what the president said when he reached the front of the line that is getting the most ink in the liberal press. According to the Austin Chronicle, Obama stopped by Franklin Barbecue in Austin, Texas, on Thursday and was jeered when he boldly cut the line. Daniel Webb, a comedian and sometime drag queen, was working the register that day. As Obama approached, Webb "slapped the counter dramatically" and hollered, "Equal rights for gay people!" "Are you gay?" asked Obama. "Only when I have sex," Webb responded. The exchange elicited a hearty laugh and a fist bump from Obama.
As for the criticism from the hungry customers who were forced to wait while Obama placed his order, they cheered up when the president offered to pick up their tabs. Obama didn't have enough cash for the sizable order (which came to exceed $300), so he placed the tab on his JP Morgan credit card. Webb dismissed his customers' criticism of the president. "Logistically, that's a really lazy complaint. I don't think you can safely have a world leader hanging around in a line," explained Webb.
For more information, visit www.facebook.com/yourgossipfix