Cease-fire effort collapses as rockets, airstrikes continue
Willie Grace | 7/15/2014, 5:29 p.m. | Updated on 7/15/2014, 5:29 p.m.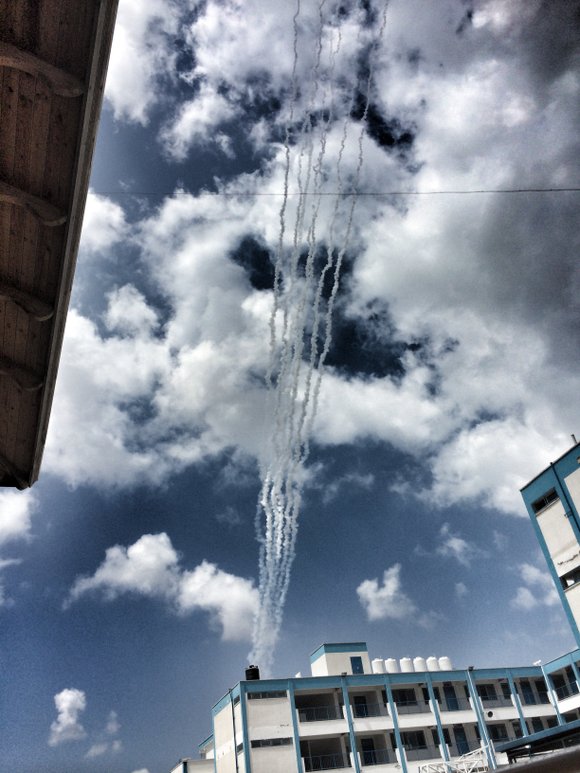 An Egypt-backed cease-fire between Israel and Hamas fell apart Tuesday as rocket attacks from Gaza were answered by Israeli airstrikes once again.
The rocket attacks from Hamas militants in Gaza never ceased, Israeli officials said. For its part, Israel refrained from airstrikes for about six hours before announcing it was resuming the attacks.
A CNN crew witnessed at least five Israeli airstrikes just as the announcement was made.
The Israel Defense Forces said 47 rockets were fired into Israel during the cease-fire period, which Hamas never accepted.
The faltering of the cease-fire attempt means there may be little hope of seeing an end to the near constant exchange of fire that has so far killed more than 190 Palestinians in Gaza.
The first fatality on the Israeli side was a man killed Monday after being hit by a mortar shell, Israeli Rescue Services said. The man was an Israeli volunteer who was at the Erez border crossing to deliver food to soldiers.
Israeli leaders had agreed to the cease-fire, but from the outset warned it would be short-lived if the attacks from Gaza didn't stop.
The Israeli Security Cabinet met early Tuesday morning and decided to halt aerial strikes beginning at 9 a.m. (2 a.m. ET). It resumed strikes about six hours later, by 3 p.m. (8 a.m. ET).
Hours later, the barrage from Gaza continued, with at least one salvo of about 40 rockets launched on south and central Israel
"Hamas have decided to continue, and will pay the price for that decision," Israeli Prime Minister Benjamin Netanyahu said Tuesday.
The Egyptian plan calls for all sides to cease hostilities in Gaza. It also calls for the opening of border crossings, once the security situation is stable, and for high-level talks among those involved.
When the plan was announced, there was a split reaction from Hamas. Its military wing rejected any possibility of a cease-fire, while its political wing had said it was considering it.
Ismail Haneyya, deputy chairman of Hamas' political wing, said at the outset of the Egyptian efforts that there is a bigger issue than a cease-fire for Palestinians.
He said that what Palestinians really want is an end to the Israeli blockade on Gaza that is suffocating the daily lives of the 1.8 million Palestinians living there.
Haneyya, speaking on Hamas-owned Al Aqsa TV, also accused Israel of not freeing Palestinian prisoners from Israeli jails, as had been agreed to under an earlier truce. These, he said, are elements the Palestinians would like to see in a comprehensive cease-fire agreement.
The stakes are high and climbing.
By Tuesday, the death toll from a week of Israeli airstrikes on Gaza had reached 194 with at least 1,400 wounded, according to Palestinian health authorities.
The death toll is now greater than the number of people killed in Gaza during the 2012 conflict between Israel and Hamas.
Civilian casualties
Amid the diplomatic maneuvering, the residents of Gaza are stuck in the middle of the continued fighting. The United Nations has said that most of the people killed by Israel's aerial attacks are civilians.