Protesters square off in Arizona over where to shelter immigrant children
Willie Grace | 7/15/2014, 3:24 p.m. | Updated on 7/15/2014, 3:24 p.m.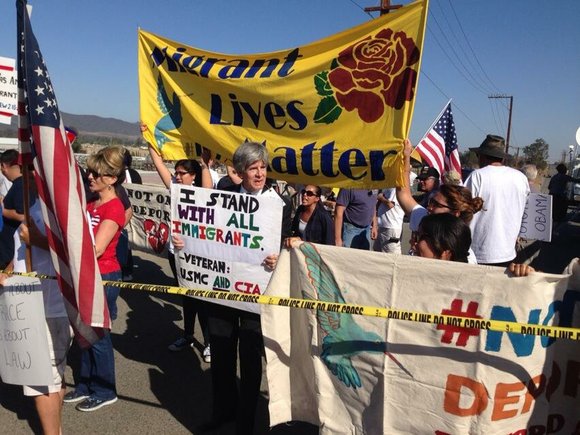 Protesters and counterprotesters squared off Tuesday in a small Arizona community over where to shelter a surge of unaccompanied immigrant children entering the country, becoming the second border state this month to enter the emotional controversy.
Dozens of demonstrators gathered in Oracle, Arizona, about 100 miles north of the Mexican border, where federal officials were expected to send dozens of detained immigrant children for housing.
The faceoff is taking place after a similar demonstration in Murrieta, California, led to vitriolic exchanges about how the broken U.S. immigration system is being overwhelmed by a tide of Central American migrants. The Murrieta protesters blocked three busloads of detained immigrants, forcing them to leave town.
In Arizona, protesters were lining up on both sides of a road where the vehicles of detained juvenile migrants were expected to pass.
Protesters positioned themselves to block the road and held "No open borders" signs. Counterprotesters, however, held "Bienvenidos Welcome" signs.
Pinal County Sheriff Paul Babeu said he told protesters to stop blocking the road.
But the sheriff has entered the fray by expressing concern about how the federal government hasn't told his agency about the transfer of the detained youths to his county. He wants the federal government "to provide us information," the sheriff said.
"If you're going to send unaccompanied juveniles to another state in another jurisdiction, there's legitimate concern that other members of this community have about public safety and public health," the sheriff said. "Give us the information."
One protester said his opposition to the transfer wouldn't scare the detained children because "after they've been all the way up through Mexico, I don't think anything is going to frighten them," Eldon Rhodes told CNN Tucson affiliate KVOA.
"I'm protesting the invasion of the United States by people of foreign countries. This is about the sovereignty of our nation," said Rhodes, an Oracle resident.
Counterprotesters were concerned that their opponents would create a negative national image for their town.
"We are concerned that Oracle not be viewed as monolithically anti-immigrant, anti-children. We think the angels of our better nature need to be reflected through efforts like this one," Frank Pierson, a 35-year resident who's also president of St. Helen Catholic Church parish council, told CNN affiliate KGUN.
The Pinal County Sheriff's Office was recently "informed by 'whistle blowers' in the U.S. Department of Homeland Security they plan to transfer between 40 and 60 unaccompanied illegal minors to the 'Sycamore Canyon Boys Ranch' in Oracle," the office said in a statement on its Facebook page.
"Our office has communicated with Homeland Security to express our public safety and public health concerns. We have already reached out to the director of the Sycamore Canyon Boys Ranch who has confirmed Homeland Security has been in negotiations with the facility to temporarily house the minors," the sheriff's office said.
The Sycamore Canyon Academy in Oracle aims to help young men who may be struggling at home or in school. But it's not where the expected group of immigrant children should go, Sheriff Babeu said.