Rice's Lane to Testify Before Senate Committee Thursday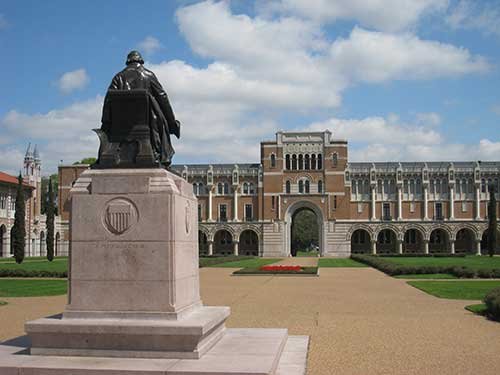 HOUSTON – (July 15, 2014) – Rice University science and technology policy expert Neal Lane will testify before the full Senate Committee on Commerce, Science and Transportation at 2 p.m. ET Thursday.
The committee is chaired by Sen. John D. Rockefeller IV, D-W.Va., and is also led by its ranking member Sen. John Thune, R-S.D. At the hearing, titled "The Federal Research Portfolio: Capitalizing on Investments in R&D," Lane will discuss a forthcoming report that he is co-chairing with Norman Augustine for the American Academy of Arts and Sciences.
The new report, "New Models for U.S. Science and Technology Policy," will be released in mid-September.
Who: Neal Lane is the Malcolm Gillis University Professor at Rice University, a senior fellow in science and technology policy at Rice's Baker Institute for Public Policy and a professor of physics and astronomy. He is also a fellow of the American Academy of Arts and Sciences and chairs its oversight committee on science, engineering and technology.
What: Testimony regarding U.S. investment in research.
When: 2 p.m. ET Thursday, July 17.
Where: Room 253, Russell Senate Office Building, Washington, D.C.
The hearing will be webcast live on the Senate Commerce Committee website.
Previously, Lane served in the federal government as assistant to the president for science and technology and director of the White House Office of Science and Technology Policy (OSTP) from August 1998 to January 2001, and he served as director of the National Science Foundation (NSF) and member (ex officio) of the National Science Board from October 1993 to August 1998. Before his post with NSF, Lane was provost and professor of physics at Rice, a position he had held since 1986.
Follow Rice News and Media Relations on Twitter @RiceUNews.
This news release can be found at news.rice.edu.
Located on a 300-acre forested campus in Houston, Rice University is consistently ranked among the nation's top 20 universities by U.S. News & World Report. Rice has highly respected schools of Architecture, Business, Continuing Studies, Engineering, Humanities, Music, Natural Sciences and Social Sciences and is home to the Baker Institute for Public Policy. With 3,920 undergraduates and 2,567 graduate students, Rice's undergraduate student-to-faculty ratio is just over 6-to-1. Its residential college system builds close-knit communities and lifelong friendships, just one reason why Rice has been ranked No. 1 for best quality of life multiple times by the Princeton Review and No. 2 for "best value" among private universities by Kiplinger's Personal Finance. To read "What they're saying about Rice," go here.