Growing protests over where to shelter immigrant children hits Arizona
Willie Grace | 7/16/2014, 9:33 a.m. | Updated on 7/16/2014, 9:33 a.m.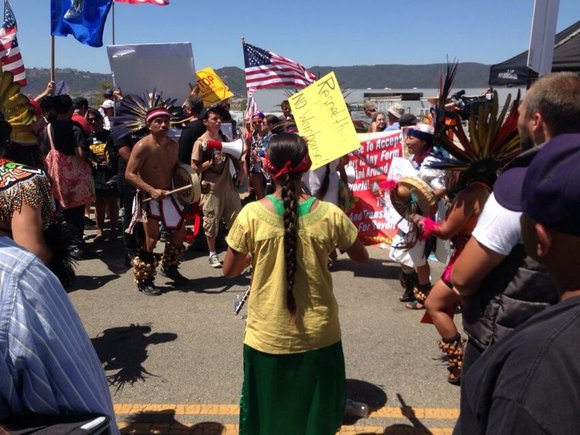 A trumpeter played a Mariachi-style "Star-Spangled Banner" as protesters sparred around him in an Arizona city that's become the latest flashpoint in the national immigration debate.
Oracle will soon house several dozen detained unaccompanied immigrant children from Central America. In the city about 100 miles north of the Mexico border, word of their impending arrival fueled passionate demonstrations Tuesday from supporters who welcomed them and critics pushing for their deportation.
Video from CNN affiliate KPNX showed a man holding a neon poster with the famous phrase inside the pedestal of the Statue of Liberty written with a marker: "Give me your tired, your poor, your huddled masses yearning to breathe free."
Another demonstrator held a sign that said, "Send 'em to Coyote Obama," describing the U.S. President with a popular term used for smugglers who help immigrants illegally cross the border.
"I'm protesting the invasion of the United States by people of foreign countries. This is about the sovereignty of our nation," Oracle resident Eldon Rhodes told CNN affiliate KVOA.
"You're just lucky. You're not better," a pro-immigrant demonstrator shouted at protesters, according to KPNX. "None of you are better than them."
Demonstrators who supported the immigrants said they were worried that protests would create a negative national image for their town.
"We are concerned that Oracle not be viewed as monolithically anti-immigrant, anti-children. We think the angels of our better nature need to be reflected through efforts like this one," Frank Pierson, a 35-year resident who's also president of St. Helen Catholic Church parish council, told CNN affiliate KGUN.
The face-off is taking place after a similar demonstration in Murrieta, California, led to vitriolic exchanges about how the U.S. immigration system is being overwhelmed by a tide of Central American migrants. The Murrieta protesters blocked three busloads of detained immigrants from entering the town for federal processing.
The demonstrations in Oracle come as activists organize a nationwide movement protesting the immigration surge with at least 260 protests scheduled this weekend.
"We are being invaded!" says a flyer distributed by 11 groups organized as National Day of Protesting Against Immigration Reform, Amnesty and Border Surge. "Our Border Patrol is overwhelmed by the massive flow of illegal aliens crossing our border daily."
Local sheriff worries
In Arizona, protesters were lining up on both sides of a road where the vehicles of detained juvenile migrants were expected to pass.
Protesters positioned themselves to block the road and held "No open borders" signs. Counterprotesters, however, held "Bienvenidos Welcome" signs.
Pinal County Sheriff Paul Babeu said he told protesters to stop blocking the road.
But the sheriff has entered the fray by expressing concern about how the federal government hasn't told his agency about the transfer of the detained youths to his county.
He's also drawn criticism for publicly revealing the location where the minors are being taken.
"I believe the public has a right to know," Babeu told CNN's AC360 Tuesday. "I would rather err on that side, rather than to be secretive, as this whole operation was initially done."