Unmask for Clear Skin
Dr. Lin Skincare Daily Cleanser and Daily Hydrating Gel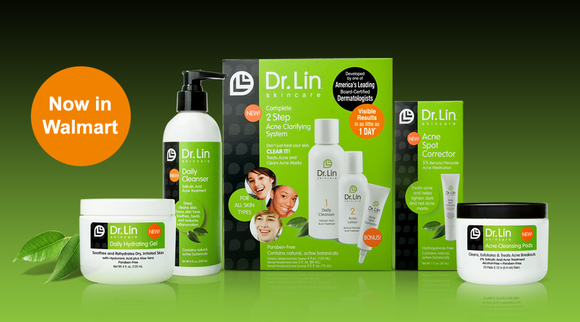 Don't hide behind a mask this fall, flaunt your face with a clear complexion! Dr. Lin Skincare Daily Cleanser and Daily Hydrating Gel are the perfect solutions to help you achieve flawless skin free of breakouts, dryness and irritation. With effective ingredients, including 2% Salicylic Acid, Hyaluronic Acid and natural botanicals, these products are the perfect treat for men and women of all ages and skin types.
Daily Cleanser
A good skin regimen starts with a beneficial cleanser that provides a deep cleaning without irritating the skin. This Daily Cleanser treats and reduces inflammation caused by acne while diminishing marks on the spot. 2% Salicylic Acid unclogs pores to keep new breakouts from forming while Arbutin, found in Bearberry Tree Extract nourishes the skin and fades red and dark marks caused by acne. Free of parabens, the gentle cleanser should be used twice daily, morning and night to maintain glowing skin, clear of imperfections.


Daily Hydrating Gel
Cleansing and moisturizing go hand in hand with an effective skincare routine. This must-have gel troubleshoots dryness with a combination of powerful ingredients while plumping the skin for a firmed appearance. Hyaluronic Acid locks moisture in to hydrate the face while smoothing-out subtle lines and wrinkles. Added Aloe Vera treats inflammation from breakouts to eczema offering a cooling sensation that soothes all skin types.

Retail Price: Daily Cleanser, $8.99; Daily Hydrating Gel, $8.99
Available at: www.DrLinSkincare.com
About Dr. Lin Skincare: Clear acne and fade the marks left behind with this easy to use and clinically-proven acne fighting skincare line available in major retail outlets. Features the 2 Step Acne Clarifying System, a simplified and effective alternative to 3 step systems, with no toner required. Dr. Lin Skincare is the only dermatologist-developed system designed to not only treat and prevent acne, but also even the dark and red pigmentation marks on the skin. Dr. Lin's formula includes a proprietary blend of benzoyl peroxide, salicylic acid, and natural active botanicals to provide continuously clear, beautiful skin. Dr. Lin Skincare is paraben-free, designed for all skin types and affordably priced so that everyone can bring home the dermatologist.