Deaths mount in Gaza and Israel as U.S. pushes cease-fire
Willie Grace | 7/21/2014, 5:37 p.m. | Updated on 7/21/2014, 5:37 p.m.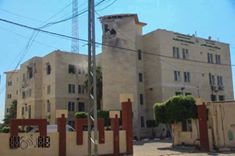 The death toll on both sides of the Gaza battle jumped Monday, as Palestinian officials reported scores more killed and Israel announced seven more soldiers died -- including several on Israeli soil.
About 550 Palestinians have been killed, Gaza Health Ministry officials said. It's unknown how many were militants, but the United Nations has estimated that 70% are civilians. Israel has reported dozens of terrorists killed by its forces.
In total, 25 Israeli soldiers have died, including three believed killed by friendly fire. Seven of the soldiers were killed Monday. Four were on Israeli soil, killed as a result of infiltration by Hamas operatives, the Israel Defense Forces said.
Two of the soldiers were dual Israeli-American citizens: California native Max Steinberg and Sean Carmeli, from South Padre Island, Texas, the U.S. State Department said.
Two Israeli civilians have also been killed. Israel's Iron Dome defense system helps protect its residents from missile attacks.
Gaza hospital shelled
The Shuhada Al-Aqsa hospital in central Gaza was hit by shelling, leaving five people dead -- one patient and four relatives, the Gaza Health Ministry said. Hamas TV showed upper floors damaged.
Israeli Justice Minister Tzipi Livni told CNN that the reports of hospital shelling are being questioned, "and we will make all the facts found public."
The Israel Defense Forces said an initial investigation shows that a cache of missiles was stored in the immediate vicinity of the hospital and was targeted. "Civilian casualties are a tragic inevitability of the brutal and systematic exploitation of homes, hospitals and mosques in Gaza," the IDF said. "While the IDF takes every possible measure to minimize civilian casualties, Hamas and its deliberate tactic of embedding terrorist activities within the urban environment is ultimately responsible."
Israel also blames Hamas for other civilian deaths in Gaza, noting that the group has encouraged people to stay in their homes despite repeated warnings from Israel in advance of airstrikes. But some Palestinians have said they feared that even if they left they could face the same violence anywhere in Gaza. More than 83,000 Palestinians have taken refuge in U.N. facilities.
"Nobody is safe and nobody can flee anywhere because everywhere is targeted," said Enas Sisisalem, a mother of two who lives in the al-Remal neighborhood of Gaza City. "When we hear the shelling my kids will cry."
Israeli kindergarten struck
A rocket fired from Gaza struck a kindergarten, which was empty at the time, in the Israeli town of Sha'ar Hanegev, the IDF said.
More than 2,000 rockets have been fired at Israel since the start of Operation Protective Edge, it said.
Hamas said Monday it had killed Israeli soldiers in an ambush and that the Hamas fighters were uninjured. It also said it successfully targeted Israeli troops in several places.
Israel killed more than 10 Hamas terrorists who entered the country through tunnels "to attack two different kibbutzim," or communal areas, "where farmers are trying to conduct their daily lives," government spokesman Mark Regev told CNN.