Famed actor James Garner dies at 86
Willie Grace | 7/21/2014, 6:23 p.m. | Updated on 7/21/2014, 6:23 p.m.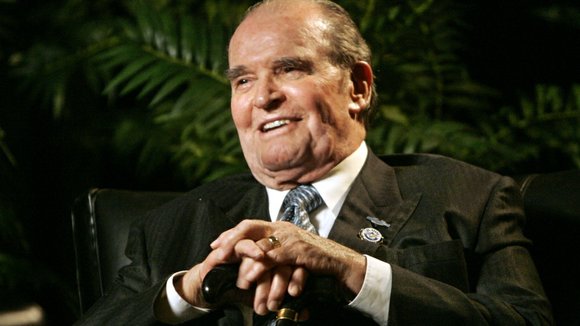 James Garner, the understated, wisecracking everyman actor who enjoyed multigenerational success on both the small and big screens, has died. He was 86.
Police, who were called to his residence Saturday night in Los Angeles, say he died of natural causes.
Garner starred in hit TV series almost 20 years apart -- "Maverick" in the late 1950s and "The Rockford Files" in the 1970s.
He also had a notable film career, starring in such classics as "Sayonara" (1957), "The Great Escape" (1963), "The Americanization of Emily" (1964), "Grand Prix" (1966) and "Victor/Victoria" (1982), as well as the TV movies "My Name Is Bill W." (1989) and "Barbarians at the Gate" (1993). More recent films included "Space Cowboys" (2000) and "The Notebook" (2004).
He was fiercely independent, challenging the studios on both "Maverick" and "Rockford" when he felt he wasn't being treated fairly. He sued studios twice and won both times.
"The industry is like it always has been. It's a bunch of greedy people," he told The Los Angeles Times in 1990.
Garner was given a Screen Actors Guild Life Achievement Award in 2004. The actors' union head issued a statement about his death Sunday.
"James Garner was the definition of the smooth, dashing leading man, but his talents were so much more than skin deep," SAG-AFTRA President Ken Howard said. "He was a hard worker who dedicated himself wholly to whatever he set out to accomplish, whether it was serving his country or performing for the camera."
A versatile star
He was a valued and convincing pitchman -- in his 1970s and '80s commercials for Polaroid cameras, he had such good rapport with co-star Mariette Hartley that viewers were convinced they were married -- and was nominated for a slew of awards, including Emmys, Golden Globes, SAG Awards and an Oscar (for 1985's "Murphy's Romance"). His performance in "The Rockford Files" won him an Emmy.
He could do serious. His performance in the TV movie "My Name Is Bill W." -- about the founding of Alcoholics Anonymous -- was straightforward and uncompromising. He could also show real heartbreak, whether it was cradling fellow escapee Donald Pleasance in "The Great Escape" or talking with Gena Rowlands in "The Notebook."
But he was rarely one to blow his own horn.
"I got into the business to put a roof over my head," he once said. "I wasn't looking for star status. I just wanted to keep working."
Humble beginnings
James Scott Bumgarner was born April 7, 1928, in Norman, Oklahoma. His mother died when he was 5 and his father remarried a year later. Garner didn't get along with his stepmother and, after a particularly vicious argument, left home at 14. His father, who divorced his stepmother, eventually moved to Los Angeles. At 16, Garner followed, attending Hollywood High School and finding a job as a swimsuit model.
"I made 25 bucks an hour!" he told People magazine. "That's why I quit school. I was making more money than the teachers. I never finished the ninth grade."