Shortcuts for Summer Breakfast
Family Features | 7/23/2014, 7:37 p.m. | Updated on 7/23/2014, 7:37 p.m.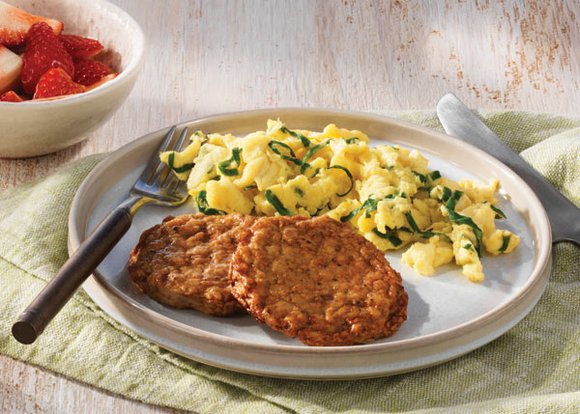 Although the break from school makes summer mornings less hectic for many families, plans ranging from swimming lessons to a trip to the lake can still put a pinch on the start of the day. Because those summer activities tend to involve a healthy dose of physical activity, it's especially important to start the day with a well-balanced breakfast, even when time is tight.
Get your family off to a strong start with a wholesome breakfast each day this summer with these time-saving tips:
Aim for balance. The best way to start the day is with a complete meal that covers most — if not all — of the food groups to give your body the boost it needs. Work to incorporate proteins, grains, fruits and dairy every morning.
Save time and add flavor. You can enjoy a flavorful breakfast with protein and shave minutes on preparation and clean-up with meats that just need quick heating, such as Jimmy Dean Delights Fully Cooked Chicken Sausage Links and Patties. Several flavors make it easy to change up your morning menu, and with 10 grams of protein and only 120 calories per serving, the new links and patties offer a better-for-you option that's both tasty and convenient. Plus, these delicious breakfast additions pair perfectly with scrambled eggs.
Carve out weekend prep time. Dedicating a little time on the weekend can make weekday mornings run more smoothly. Do the prep work for your family's favorite breakfast foods, so minimal extra work is needed each day. Stem a carton of strawberries, slice a melon and pit some cherries for quick servings of fruit.
Find recipes that do extra duty. Mini quiches, frittatas and even breakfast burrito fillings are tasty breakfast options that allow you to pack multiple food groups into a single menu. Many of these items can be prepared ahead of time and kept frozen. Pre-diced frozen veggies and fully-cooked meats, such as Jimmy Dean Delights Fully Cooked Chicken Sausage Links and Patties, can help trim your cooking time even more.
You've heard it said that breakfast is the most important meal of the day, and with these shortcuts you can be sure to deliver a strong morning start for your family all summer long.
For more quick and easy breakfast options this summer, visit www.jimmydean.com.