Ben Affleck's New Batman Cape & Cowl on Display
Willie Grace | 7/24/2014, 3:40 p.m. | Updated on 7/24/2014, 3:40 p.m.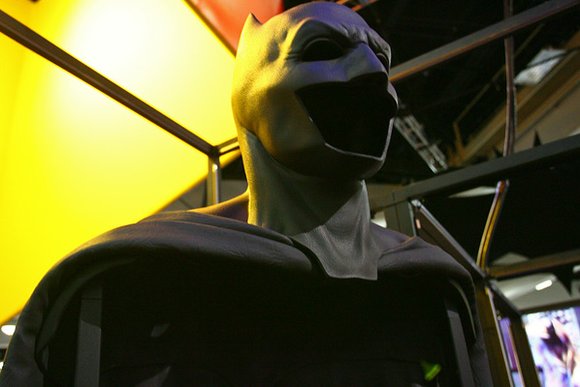 "He's a silent guardian. A watchful protector." Taking place this week is Comic-Con 2014, but it's also the 75th Anniversary of Batman, the comic book superhero created by Bob Kane. In honor of the anniversary, DC's booth is filled with Batman everything, including costumes, capes and masks from every single Batman movie.
While many fans are scrambling for a look at the older costumes, few seem to realize the new "Batfleck" costume is there, too. They're showing off Ben Affleck's Batman cape & cowl from Batman v Superman: Dawn of Justice (seen before) at the Con and we have photos.No other info or details were revealed about this Batman, just the name "Zack Snyder" beneath the display.
Batman v Superman: Dawn of Justice is directed by Zack Snyder (Man of Steel, 300) and written by Chris Terrio (Argo) with a story from David S. Goyer (of The Dark Knight trilogy). Production is already underway around the world, and the sequel will be shot back-to-back with Justice League. Henry Cavill is returning as Superman along with Amy Adams, Laurence Fishburne and Diane Lane from Man of Steel and Jesse Eisenberg playing iconic villain Lex Luthor. In addition, Ben Affleck is joining the film as the new Batman, along with Gal Gadot as Wonder Woman. Warner Bros will release the sequel on May 6th, 2016.
For more information go to http://www.firstshowing.net