Director Zack Snyder Reveals Henry Cavill as a Jedi Superman
Willie Grace | 7/24/2014, 3:46 p.m. | Updated on 7/24/2014, 3:46 p.m.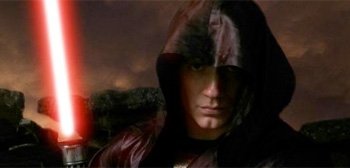 Right now production is underway on Batman v. Superman: Dawn of Justice, and while we've only seen photos of Ben Affleck as Batman and Henry Cavill as Superman, the latest photo to come from the set is mindblowing. That's mostly because we're not sure why it exists. Director Zack Snyder took to Twitter with a photo featuring Cavill as Superman, but he was also wearing a cloak and wielding a red lightsaber. All he included with the photo was the hashtag #SuperJedi, which seems a little weird since the photo looks pretty dark, and we've never seen a Jedi with a red lightsaber, but there you have it. Look below now!
Here's the photo tweet in question from director Zack Snyder's Twitter:
So what does this mean? Well, probably nothing. Usually Cavill has to wear a robe like that while not shooting scenes so that paparazzi can't snap photos of him in the suit. More than likely, Snyder and Cavill were just having some Photoshop fun. But still, we can't help but wonder if Snyder is hinting that he might have something to do in the Star Wars universe, especially since he was once rumored for a Seven Samurai style movie focusing on some Jedi. That was just a rumor, but knowing Snyder's trademark style, it would be pretty cool to have him directing some lightsaber and Force action.
For more information go to http://www.firstshowing.net