New TEENAGE MUTANT NINJA TURTLES Mobile Game - Available today!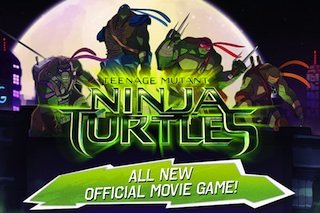 HOLLYWOOD, CA (July 24, 2014) – Paramount Pictures and Nickelodeon today announced that the Teenage Mutant Ninja Turtles Mobile Game for the highly anticipated summer film "TEENAGE MUTANT NINJA TURTLES" is now available for iOS, Android and Amazon devices.
Based on the new film in theaters August 8th, the mobile game allows players to take back the streets of New York City with the most shell-tastic team ever. Playing as Leonardo, Michelangelo, Donatello or Raphael, players will activate fierce Ninjutsu-style moves to keep the city safe. The game features exciting and intuitive combat controls, upgrades and weapons, a Turtle Power super attack and two unique modes of play: Story Mode, where the Turtles learn to be the warriors they become in the movie, and Survival Mode, in which players must stay alive against endless waves of enemies. Players will also be able to test their skills with in-game challenges and compete against their friends' high scores.
The story was written by Tom Waltz, contributing author to the beloved Teenage Mutant Ninja Turtles comic series from IDW Publishing.
The Teenage Mutant Ninja Turtles Official Mobile Game can be downloaded at www.teenagemutantninjaturtlesmovie.com/game
The "TEENAGE MUTANT NINJA TURTLES" film is a modern-day iteration of the popular franchise that has captivated audiences of all ages for decades. The Turtles must work with fearless reporter April O'Neil (Megan Fox) and her wise-cracking cameraman Vern Fenwick (Will Arnett) to save New York City and unravel Shredder's diabolical plan. Based on the Teenage Mutant Ninja Turtles characters created by Peter Laird and Kevin Eastman, written by Josh Appelbaum & André Nemec and Evan Daugherty, Teenage Mutant Ninja Turtles is produced by Michael Bay (director and executive producer of the blockbuster Transformers franchise), Andrew Form, Brad Fuller, Galen Walker, Scott Mednick and Ian Bryce, and directed by Jonathan Liebesman ("WRATH OF THE TITANS").
Download the new TEENAGE MUTANT NINJA TURTLES mobile game! Available today on iOS and Google Play
iTunes: https://itunes.apple.com/us/app/teenage-mutant-ninja-turtles/id797809194?ls=1&mt=8
Google Play: https://play.google.com/store/apps/details?id=com.mtvn.tmntMovieGame
About Nickelodeon
Nickelodeon, now in its 35th year, is the number-one entertainment brand for kids. It has built a diverse, global business by putting kids first in everything it does. The company includes television programming and production in the United States and around the world, plus consumer products, online, recreation, books and feature films. Nickelodeon's U.S. television network is seen in almost 100 million households and has been the number-one-rated basic cable network for 19 consecutive years. For more information or artwork, visit http://www.nickpress.com. Nickelodeon and all related titles, characters and logos are trademarks of Viacom Inc. (NASDAQ: VIA, VIA.B).
About Paramount Pictures Corporation
Paramount Pictures Corporation (PPC), a global producer and distributor of filmed entertainment, is a unit of Viacom (NASDAQ: VIAB, VIA), a leading content company with prominent and respected film, television and digital entertainment brands. Paramount controls a collection of some of the most powerful brands in filmed entertainment, including Paramount Pictures, Paramount Animation, Paramount Vantage, Paramount Classics, Insurge Pictures, MTV Films, and Nickelodeon Movies. PPC operations also include Paramount Home Media Distribution, Paramount Pictures International, Paramount Licensing Inc., and Paramount Studio Group.