Santa Fe, New Mexico: A Sense of Place
Visit Santa Fe, New Mexico to find your sense of place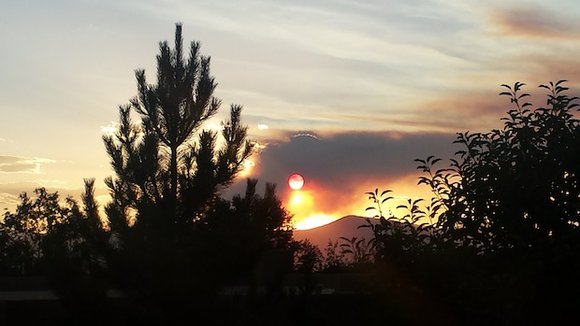 To end day two - dinner and drinks at The Compound with its simple elegance and a vibrantly tasty menu that lives up to its décor. Oh yeah, Tom Ford once worked there. Yes, TOM FORD.

Saturday (Day Three)
Not wanting to leave my comfy room at Hotel Chimayo, it was time to check out and head on over to Bishop's Lodge Ranch Resort & Spa. However, before doing so, I was taken on a tour of Madrid. I wish I had the time to write a book about this town. Madrid, where the movie Wild Hogs starring John Travolta and Tim Allen was filmed. At first glance it looked like a dusty ghost-mining town but I was definitely fooled. Madrid's history is so magical, I was like a kid in a candy store wanting to touch everything, my curiosity peeking at every corner. If you ever find your self in Santa Fe (and I hope you do), take that short drive to Madrid, go eat at the Mineshaft Tavern and hopefully you can meet the awesome owners and convince them to give you a tour of their museum. It's so worth it.
If you are seeking something less rustic, then Santa Fe is a must during its opera season (June-August). The Santa Fe Opera, an open-air theater set amongst the Sangre de Cristo and Jemez Mountains delivered an experience of world-class performances along with a sunset that is far from forgettable. I truly cannot wait to return to experience this once more.
Day three was a tad bit hotter than the other days, so my check in to the Bishop's Lodge was a real treat. Set on 450 acres of awe-inspiring scenery, the upscale lodging resort was simply breath taking. Because my room was so secluded, I thoroughly enjoyed sitting outside in my patio, in the plush robe provided by the lodge, drinking a cup of gourmet coffee while enjoying the sites and sounds of all the nature New Mexico had to offer. If you are seeking to be pampered and want lush accommodations, the Bishop's Lodge is highly recommended.
Sunday (Day Four)
I am not quite sure how many museums are in the city of Santa Fe but I am positive that I didn't even get to experience nearly one-fourth of them. From the Museum of International Folk Art to the State's History Museum, there is so much to see, I was running out of time and I remember being quite sad about it. I live in a city that is known for its art and museum district; however, nothing prepared me for all of the culture Santa Fe had to offer. Did you know that they offer an annual tour where you can visit artists' studios and those studios just happen to be in their homes? How awesome is that! Yes, I want to move there. No, I cannot paint or draw or any of that. But a girl can dream, right?
four
Museum day was amazing but it had come to an end. I had one more night to spend in Santa Fe and I did so with a bang - dinner at The Four Seasons Resort Rancho Encantado. Not only is the award winning regional cuisine worth the drive but the sunset, oh the sunset.

Monday (Time to Return Home)
Dear Santa Fe,
I fell in love with your spirit, your history, and your culture. Although a short time, I was made to feel as if I were a part of your great city. So what began as an accident – leaving my shoes at the hotel- well, I do believe I unconsciously did it on purpose. I left something that was once a favorite of mine to a city that gave me a 'sense of place'.
For more information, visit santafe.org.