Boehner: Administration 'ought to get its act together' on border crisis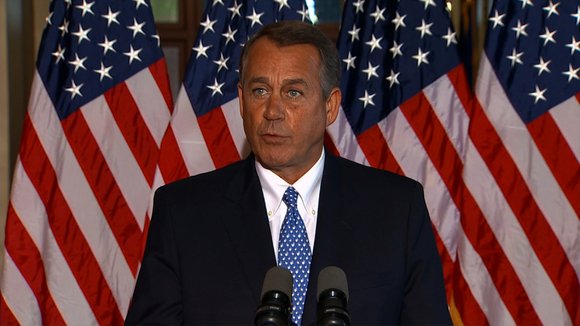 House Republicans unveiled a $1.5 billion border funding package Wednesday to address the situation on the southern border, almost $1 billion dollars smaller than the version introduced by Senate Democrats on Tuesday, and less than half of what President Barack Obama requested.
But strong opposition from congressional Democrats to policy changes House and Senate GOP members want to attach to a bill combined with conservative pushback from those Republicans who don't want to give Obama any more money means getting anything through Congress is an uphill battle.
House Speaker John Boehner criticized the Obama administration for sending what he believes were mixed signals about its position on altering a 2008 immigration law that allows children from Central America to remain in the United States until they have a hearing.
"The administration ought to get their act together," Boehner told reporters after the closed- door meeting with House Republicans. "You know they made indications that they were for changes to the 2008 law that helped bring this problem on, and yet now they're opposed to it. Without trying to fix the problem, I don't know how we actually are in a position to give the President any more money."
Boehner sent Obama a letter on Wednesday pointing to recent public comments by the President and other administration officials in support of getting additional legal authority, but said that now congressional Democrats have "backpedaled and voiced unswerving opposition to any changes at all."
"Frankly, it is difficult to see how we can make progress on this issue without strong, public support from the White House for much-needed reforms, including changes to the 2008 law," Boehner wrote.
Changing 2008 law at center of plan
A House Border Working Group set up by Boehner released a series of policy recommendations it believes are needed to stem the influx of illegal crossings.
The centerpiece of their plan was reversing the 2008 law to make it easier to deport unaccompanied children fleeing countries like Honduras, Guatemala and El Salvador. Instead of children being allowed to remain in the United States until they receive a hearing -- something that can take months or more than a year -- most children will be returned home quickly.
Those who maintain that they face threats of sexual abuse or violence will stay in U.S. custody and get a hearing within seven days.
That plan mirrors a bipartisan bill introduced last week by Democratic Rep. Henry Cuellar and GOP Sen. John Cornyn, both of Texas.
The working group also wants to deploy the National Guard to the border to assist border patrol agents dealing with humanitarian needs, establish a set of metrics to measure how well federal agencies are securing the border, and expand the number of judges who can more quickly determine whether claims of persecution from those coming into the U.S. from Central America are legitimate.
Many of the recommendations from the group are expected to be added to the funding proposal outlined by House Appropriations Chairman Hal Rogers. The House plan uses left over funds from various federal programs to cover the price tag. Senate Democrats argue the emergency spending bill doesn't need to be offset.