Enjoy Atlanta! A Perfect Destination for Family Travel
Vacation to Atlanta, Georgia
When most people think of Atlanta you think of all the "glitz and glamour" from private movie premieres, celebrity sightings, and the "Georgia Peaches". Besides being the epitome of southern chic, Atlanta provides the perfect destination for family travel. From the beautiful Centennial Park to the latest marvel: The Center for Civil and Human Rights, the "Peachtree" city is about a two hour direct flight from the Bayou City, or a whopping twelve hours if you chose to hit the highway.
Hotel
Imagine walking into an illustrious building of luxury with southern accents and ultra posh decor. That's my refreshing memory as I was greeted by my personal concierge Jonathan. He made me feel like royalty "literally and figuratively". The daily spoils of dining at Eleven Restaurant, champagne cocktails at Bar Eleven, and southern hospitality from Atlanta's luxury hotel were undeniable, and of course I relished in every moment. Loews Hotel-Atlanta prides themselves by providing impeccable service from the moment you step onto the property. With favored amenities such as: a beautiful cocktail bar, dining area, work out studio, spa, free Wi-Fi, and walkability the luxury abode is fit for a "queen". Not bad for a property that's a little over three years old, and has been confirmed as the city's number one luxury hotel.

Not to be confused with your typical luxury hotel, Loews promotes a family friendly atmosphere as well. Upon entering my plush and spacious Premier Room on the 25th floor, I was greeted with board games galore that would keep the kiddies entertained for hours while the adults could sip on some bubbly. This Midtown property ensures that most of the tourist attractions and dining options are walkable; however when planning your family time to Atlantic Station, Centennial Park, or the CNN Center take advantage of being chauffeured in their very own loaded Mercedes GL450.
http://www.loewshotels.com/en/Atlanta-Hotel
@Loews_Hotels #LoewsAtlanta
Restaurants
The Flying Biscuit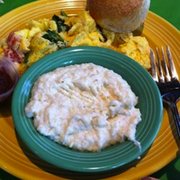 This place made my mouth water with their homeade finger lickin' good biscuits, and the grits. Did I mention that these grits are highly addictive! As a serious breakfast conniseur I took a walk on the wild side by having three scrambled eggs with spinach, tomatoes, and monterey jack cheese, with grits that were filling with the right amount of cream and cheese.
The staff was so helpful and accomodating. They get three stars for the impeccable service, affordable price, and enjoyable dining experience for the family. http://www.flyingbiscuit.com
Tin Lizzy's Cantina
Known for their tasty tacos, Tex-Mex cuisine, and casual atmosphere. Even the kid's have a boatload to choose from such as: the cheesy quesadillas to grilled taco plates. As the youngins' indulge in the chips and salsa don't forget to order your pitcher of fruity margaritas at one of Atlanta's favorite patio restaurants. http://www.tinlizzyscantina.com
Ra Sushi
RA Sushi Atlanta is conveniently located walking distance from the hotel near Crescent and 11th Street. Stop by for lunch or dinner and order your favorite sushi, signature rolls and Japanese fusion cuisine. Enjoy it all inside or on the patio, or drop by for Happy Hour and see why everything's more fun in the RA. www.RAsushi.com