Heritage Hotels To Build New Hotel in Albuquerque New Mexico
Contemporary Hotel Will Offer Luxurious Accommodations While Embracing Ancient Native American Inspired Architecture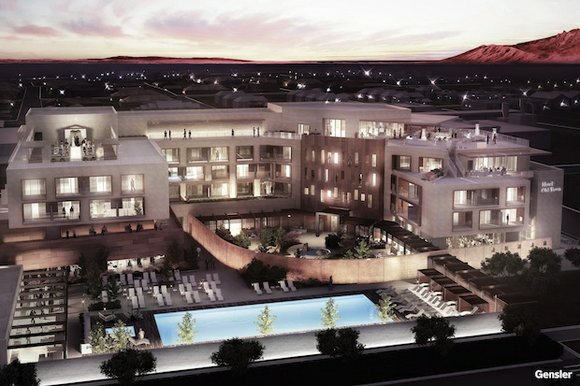 Interiors of the hotel will done by Santa Fe based designer, Kris Lajeskie and will focus on a merger of ancestral knowledge with contemporary materials, furnishings and art. The color palette for the project will be the natural wool colors used by the master weavers of the Navajo reservation.
"Not since Fred Harvey has there been a visionary who has taken on with such vigor, the creation and promotion of the "cultural hotel" in the Southwest," states Kris Lajeskie, principal of Kris Lajeskie Design. "Jim Long is on a mission to share with the world the uniqueness of New Mexico. The creation of this new hotel will go a long way towards that end. Jim challenged the design team to create a new vernacular in Southwest architecture and there is no question we succeeded. Gensler did a brilliant job in their interpretation of Chacoan architecture and my challenge was to create interior spaces that capture the essence of mother earth and the indigenous native culture. From the moment you enter you will know you are in a very special place."
Future plans for the hotel will include a signature restaurant featuring modern Native American cuisine, a luxurious spa, a rooftop restaurant and a rooftop wedding chapel.
Hotel Albuquerque will be the owner of the new hotel, and managed by Heritage Hotels & Resorts. Hotel Albuquerque was acquired in 1999 by a group of local New Mexican families, led by Jim Long.
Additional Facts about the Hotel:
Size: 120,000 square feet

Capacity:
• 118 guestrooms, including 10 luxurious suites
• Rooftop event terrace to accommodate up to 250 people
• Conference room facilities to accommodate up to 100 people
• Signature restaurant to accommodate 150 people
• Rooftop restaurant and lounge to accommodate up to 250 people
• 6,000 square-foot spa
• 1,200 square-foot fitness facility
3,000 square-feet of street-front retail
• Outdoor pool and lounge experience
About Heritage Hotels & Resorts
Founded by Jim Long in 2005, Heritage Hotels & Resorts is a collection of culturally distinct hotels in New Mexico and is the largest independent hotel brand in New Mexico. Through their architecture, interior design, landscaping, cuisine, art, entertainment and music, Heritage Hotels & Resorts provides guests with a very rich, authentic, cultural experience. Hotel Albuquerque at Old Town and Nativo Lodge are located in Albuquerque, NM; Hotel St. Francis, Eldorado Hotel & Spa, Hotel Chimayo de Santa Fe and The Lodge at Santa Fe are located in Santa Fe, NM; Hotel Encanto de Las Cruces is located in Las Cruces, NM; and Palacio de Marquesa is located in Taos, NM. Each Heritage Hotel donates a percentage of its revenue to cultural causes. The company and its affiliate companies provide over 1,500 jobs in NM. You can find Heritage on Twitter at @HeritageHtls or on Facebook at Facebook.com/HeritageHotelsandResorts or at www.hhandr.com
About Gensler
Gensler is a global design firm grounded in the belief that great design optimizes business performance and human potential. Our 4,000 practitioners networked across 46 offices use global perspective and local presence to innovate at every scale. Whether we are refreshing a retailer's brand, planning a new urban district or designing a super tall building, we strive to make the everyday places people occupy more inspiring, more resilient, and more impactful.
Projects of Note: Gensler is redefining Shanghai's skyline with the Shanghai Tower, China's tallest building; challenging the conventional office with our workplace research; reshaping the future of retail; and envisioning a better urban future with our Reimagining Cities initiative.
Recent accolades: #1 Most Admired Firm in 2014 by Building Design and one of the Top 5 Most Admired 'Global Firms' by Interior Design in 2014; 'World's Biggest Architect' on Building Design's World Architecture 100 in 2014 and 2013; AIA Institute Honor Awards for Architecture in 2014 and 2012; and for the 33rd consecutive year, Gensler tops Interior Design's Top 100 Giants list.
For more information, visit www.hhandr.com